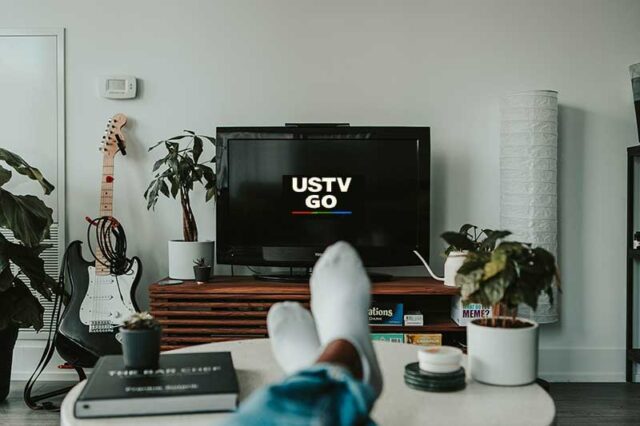 USTVGO is a free streaming service that offers approximately 100 live TV channels and is one of the greatest cord-cutting options. It provides channels in a variety of categories, such as news, sports, entertainment, and children's programming. Users are not required to register or sign up for the site. All you need is open the website and watch the videos. It is on the list of the most popular IPTVs. Let us see a comprehensive assessment of USTVGO.
USTVGO main features
It does provide real-time streaming by offering direct access to all channels. You may access and enjoy the material as the programme is being broadcast on TV.
Generally, there would be no advertisements on the site. All you have to do is click on the channel you wish to watch, and it will start playing right away.
USTVGO will show you a comprehensive two-day schedule for a certain station.
It is absolutely free to use the website. You don't even have to register or sign up for it.
Because the website is based on live TV networks, the playback page has a few buttons. The Play/Pause button, volume control, subtitles button, and full-screen toggle are all present.
There is also an app available on Playstore for USTVGO.
User Friendly Interface
The USTVGO website is well-designed, with a few icons and buttons. It has a colour code of blue-black. Only the header portion appears to be cluttered with too many buttons. There are buttons for Telegram Channels, FAQs, VPNs, and different categories.
Then there's the list of accessible live TV channels. There are 100 live TV stations available here. Despite the small number of channels, the video quality and streaming experience are excellent. Without any server troubles, all 100 live TV stations will stream video material.
How to access USTVGO
Users can stream USTVGO on any device that has internet access.
Open the web browser whichever you like on your device.
Navigate to the USTVGO website.
Select the channel you wish to watch.
To stream the channel, click its name and then the Play icon.
Is USTVGO Trustworthy?
In terms of validity, USTVGO is not lawful. It is not an authorised streaming platform. Without an appropriate licence or authorization from the proprietors, all of the materials are freely available. Users can stream a variety of premium channels. Therefore, we suggest that this IPTV service is a bit risky. The content might be blocked at any time and from any location. It may encounter a variety of legal challenges.
Why Do You Need a VPN to Access USTVGO?
As previously stated, the site is not legal and contains a variety of pirated content. Using a VPN conceals your IP address from hackers and trackers. Yes, the ISP or the government will trace all of the content you watch on a device. Users may use a VPN to remain anonymous and preserve their privacy. Furthermore, a few channels are exclusively available in a few countries. You may wish to utilise a VPN to view such channels without interruption.
How many channels are available on USTVGO?
The following are a few channels that you may stream. On the official site, you can find a full list of channels that are organised by type.
AMC
ABC
BBCAmerica
Boomerang
Cinemax
CNBC
Cartoon Network
CNN
Disney
Discovery
ESPN
Fox
Food Network
Hallmark Channel
HGTV
HBO
Lifetime
NBA
MTV
NFL Network
Oxygen
PBS
TBS
Showtime
TLC
USA Network
TNT
WWE Network
VH1
YSE Network
USTVGO Alternative Options in 2022

The following are some of the alternatives to the USTVGO. Here are the Best Free USTVGO Live TV Site Alternatives for Streaming US TV Channels. With these free alternatives to USTVGO TV, you can stream live TV channels on your phone or PC browser and watch TV channels from the US. There is a clone site called USTV247 which you can also consider.
123TV Now
You will be smitten with this USTVGO alternative site. You will not be required to register, and also, advertisements or pop-ups are blocked on it. Simply choose the channel you want to stream and press the play button. A pefect media player similar to YouTube will play the specified channel swiftly. 123TV Now also shows a schedule of upcoming concerts.
The majority of the channels are from the United States and the United Kingdom, and you may watch sports, news, entertainment, movies, kids, and other informational shows for free without popup ads or redirection. If you are serious about streaming live TV on your devices, I definitely recommend Wizler TV.
UStream
UStream is a free streaming platform with over 200 premium channels, including movies, sports, entertainment, and many more. The service provides several nice channels with high-quality streaming, but the only difficulty you may encounter is pop-up and click ads. However, an adblocker will suffice. However, if you are unable to stream, disable the ad blocker to check if it is the main culprit.
Sky Sports, ESPN USA, Disney Jr, BT Sport, Eurosports, TSN, NFL Network, NBA TV, MU TV, and a many other sports channels and entertainment channels are among those available on this USTVGO alternative.
Okay Live TV
OK Live TV is a live streaming service with a numerous live streaming connections. You do not require a membership; simply click on any channel on OKLiveTV that you want to watch and you are done. The video player is straightforward, and the buffer time is really short. Even though the site isn't a real streaming service, you can watch a few premium live TV channels for free on it likewise on USTVGO.
Sports, entertainment, movies, documentaries, and religion are all available as channels. Though not all of the service are working, the mostly are. Give OKLiveTV a try to see if it will satisfy your streaming cravings.
Sling TV
Sling TV is an economical priced live TV streaming service available in the market. The ease of customization, the number of channels, and the economical cost make it a perfect choice for all supported devices. Sling's Orange plan costs $15 per month and includes 31 channels. It has an adequate selection of basic sports, news, and entertainment channels. The Blue plan costs $15 per month and includes 45 channels. Orange and Blue can be bundled into a single monthly subscription for $25.
DirecTV Now
AT & T's DirecTV is gradually developing a large customer base. These online TV services like USTVGO with 160+ channels broadcast live TV. With TunerMedia under the hood, you can expect a growing number of TV channels and a huge number of choices from the huge media library.
Along with real television, the service provides movies and TV shows. There is also an app that has various flaws and glitches that make it highly doubtful in terms of user experience. But when it comes to streaming content over the internet, DirecTV has a strong mix of entertainment, music, sports, news, and many other general channels. If you are interested in weather channel on DirecTV here is a guide for you.
Pros
The website and streaming service are completely free, with no registration or membership required.
Almost all of the popular channels are represented on the list.
You can watch USTVGO on any device that has a web browser.
Furthermore, the site's interface is clear and easy to use, including a programme guide.
It also provides trouble-free streaming.
There is Telegram support and a FAQ area.
Cons
A few channels would be inaccessible without a VPN.
USTVGO cannot be streamed on Roku or other devices that do not have a web browser.
There is no on-demand content.
The majority of IPTV subscriptions available include 1000s of channels. However, USTVGO only offers 100 channels. Nonetheless, all of the channels are acceptable and popular. As a result, it is clear that the streaming service provides you with comprehensive pleasure. Please leave your thoughts about USTVGO in the comments area.
FAQs
Is USTVGO still operational?
Yes, USTVGO is operational and error-free.
Is USTVGO free to use?
Yes, USTVGO is completely free. You may watch all 100 live TV stations without a membership.