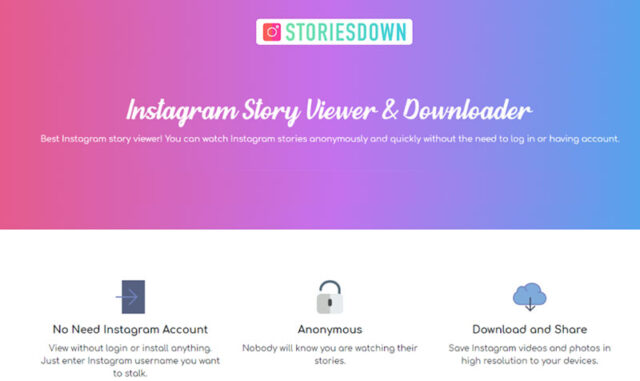 What are your thoughts on the StoriesDown tool? If you know little about the tool, this article is for you because we will discuss how it works, its reviews, and the best alternatives on the market.
Undoubtedly, Instagram is one of the top social media platforms with features that many users enjoy. Instagram Story is one of these features. With this facility, a user can upload a post, and the post's audience has up to 24 hours to view it before it is removed. This creates a sense of urgency.
Unfortunately, Instagram does not support the downloading of IG stories. This means you'll have to watch it and only have a limited time. Fortunately, there are workaround methods for downloading Instagram stories, such as using an IG story downloader like StoriesDown.
In this write-up, we will look at the StoriesDown platform. You will be given a step-by-step tutorial on how to use it to download Instagram stories anonymously.
StoriesDown IG is not the only Instagram story downloader on the market, and if you do not want to use the StoriesDown service for whatever reason, there are alternatives available. Before we get into how to use the StoriesDown tool, let's look at an overview of the tool.
What is StoriesDown?
StoriesDown is a market leader in Instagram story viewers. Using this service, you can quickly view and download Instagram users' stories without using the Instagram app or website. One of the features you'll appreciate is the ability to view stories anonymously.
One thing to remember when viewing IG stories is that the poster can see that you have done so. You do not need to register to view the stories of platform users using the StoriesDown tool, and as a result, you remain anonymous while viewing the stories.
SotriesDown also has support for viewing and downloading Instagram Instagram posts. StoriesDown is cross-platform in that you do not need to download any software to use it.
You can access it if you have a web browser on your device because it is available as a website. The website is free to use and does not require registration or any other form of authentication. The application is simple to use and effective for viewing and downloading Instagram stories.
How to use StoriesDown Instagram Story Viewer?
As previously stated, the StoriesDown website is simple and requires no registration. The steps to view and download Instagram stories are outlined below.
Step 1: Copy the Instagram account username whose stories you want to see.
Step 2: Open any of your favorite web browsers and navigate the StoriesDown website. Chrome, Firefox, Safari, Opera, or Edge are all good browsers. To make it work, make sure Javascript is enabled.
Step 3: Enter the Instagram account username in the provided input box and press the search button.
Step 4: The StoriesDown App will collect and process all of the stories before presenting them to you. The stories tab will be the default. If you only want to access and download the posts, go to the posts tab.
Step 5: Below each of the stories displayed, you will see a "DOWNLOAD" link. All you need is to click on the link, and the downloading process will begin. That is how simple it is to download Instagram stories using this App. The procedure for downloading post videos and photos is also the same.
StoriesDown Review
The StoriesDown service is a market leader for viewing and downloading Instagram stories. It, like others, has advantages and disadvantages. Let's take a quick look at these below.
StoriesDown app Pros

The StoriesDown App has some key advantages. It is accessible to all due to its ease of use and cross-platform nature. It also allows users to download videos and photos in their posts.

Its function to help you access stories anonymously is another feature you will appreciate, as it allows you to view the stories of those you don't want to know you viewed their status.

The StoriesDown service is safe, dependable, and always available for you, with no need to create an account first.
StoriesDown Cons
StoriesDown has established itself as one of the best. However, it is far from perfect. It does have some drawbacks that you should be aware of.

The main limitation is that you cannot view private profiles' stories, photos, or videos. To make a profile private, you'll need to use another tool.

There is also no guarantee that this tool will be around in the long run, as many similar tools have gone out of business or been removed by Instagram.
17 Alternative/Similar Story Viewers if Storiesdown is not working
StoriesDown not working? honestly, it meets many people's needs. However, it is not the only option you should consider. Seventeen best StoriesDown alternatives for viewing and downloading stories anonymously are the following.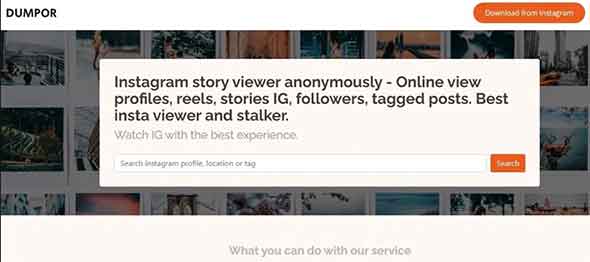 The Dumpor tool, one of the best StoriesDown alternatives, is the final tool on our list. You can use this tool to view Instagram stories anonymously. However, that is not the only thing you can do with the Dumpor website. Instagram videos and photos can be downloaded using Dumpor.
It can also be used to view posts anonymously without logging in. The site also includes search functionality, allowing you to search Instagram by hashtags, locations, and profiles. It also includes support for profile analysis, among other features.
website: https://dumpor.com/
2. Qoob Stories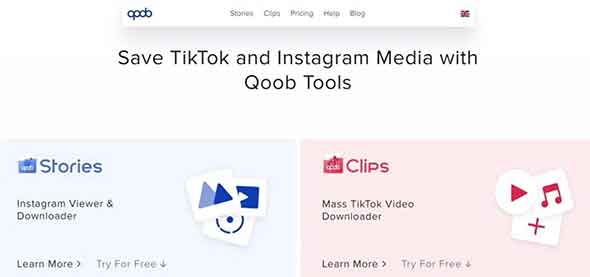 Qoob Stories is one of the best StoriesDown alternatives. This tool requires you to install its software, and some of its advanced features require you to pay to use them. Qoob Stories also has the benefit of being useful for downloading TikTok videos.

The App is currently one of the best for viewing Instagram stories. One advantage of the Qoob Stories app is that it is not limited to viewing the stories of public accounts.
You can also use it to read personal account stories. The best part is that you can do all of this anonymously and without leaving a trace, making it the ideal Instagram viewer for stalking.

website: https://www.qoob.co/
Imginn.com allows you to use Instagram without having to create an account. Imgin does necessitate the use of a Facebook account. This will necessitate the creation of new accounts for your company. It is determined by the number of photos you intend to post. If you only post a few pictures daily, it might be worth signing up for imginn if StoriesDown is not working. People will be able to find you through your regular profiles as a result of this.
You can upload more than 10 images daily with a real Instagram account on this StoriesDown alternative. It's simple to use and appears to be a website. It takes some time to locate everything. When you sign up for imginn, you will receive 50 photo credits each month. These credits are free to use in your photos however you see fit. Any credit remaining at the end of each month is rolled over to additional days at no additional cost.
website: https://imginn.com/
4. Glassagram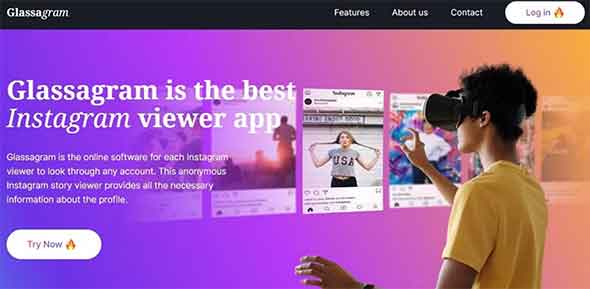 Glassagram is a similar Instagram story viewer to Qoob Stories in that you must register and sign in to use the service. While a free trial is available, the App is designed as a paid tool; as such, most of the advanced features are only available to paid customers. Glassagram allows you to read stories anonymously, likewise on StoriesDown.
This tool can monitor profiles and be notified when they post a new story. The update time is 5 minutes, ensuring you never miss an update. The App can also track IGTV likes and general comments on a profile.
website: https://glassagram.com/
5. Anon IG Viewer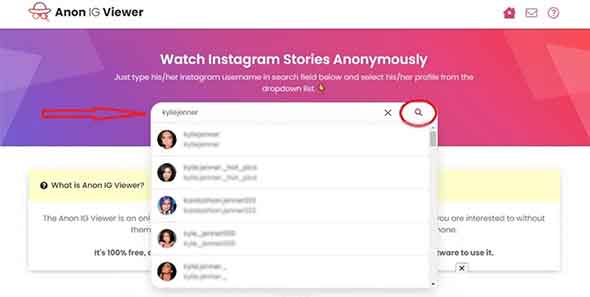 Another good alternative to the StoriesDown App is the Anon IG Viewer, which, to be honest, looks more like StoriesDown than the two discussed above. This is because Anon IG Viewer does not require you to sign up to use it.
All you have to do is go to the page, enter the username of the account of interest, and the stories associated with the account will be displayed for you to select the story you want to view. You can use this App to download stories and view them as described above. The tool is free to use and can be accessed through any popular web browser.
website: https://www.anonigviewer.com/
Gramho is a fantastic StoriesDown alternative work as an Instagram and non-Instagram profile analyzer and viewer tool. It makes it simple to analyze and access Instagram user profile data. Gramho Analyzer Online Instagram Viewer lets you view nearly all company, celebrity, magazine, and other public figure profile information.
Gramhir.com is a free website that allows users to search through their Instagram followers to discover what stories they enjoy, who their favorite followers are, and to view their Instagram profiles. Gramho also has an Instagram analytics tool that allows you to enter a list of Instagram usernames and see a breakdown of their connections, impressions, and post details.
website: https://gramhir.com/
7. InstaStories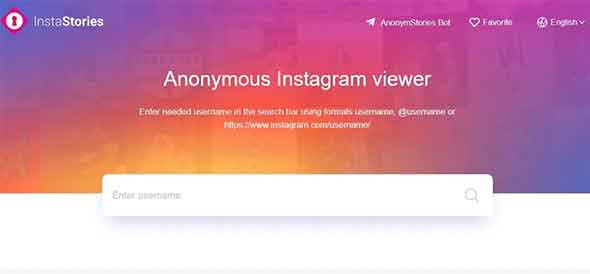 The best way to describe InstaStories is as an anonymous Instagram viewer. This is because it is more than just a story viewer. You can use it to view other Instagram content, such as hot images and videos from private Instagram profiles.
Because you are not required to create an account to use this site like StoriesDown, this will be done without leaving a trace of your identity. InstaStories is a web-based tool that does not require registration or authentication. It is compatible with all platforms because a web browser is all you need to access.
website: https://insta-stories.online/
You can use the Pixwox App to repost your favorite videos or images with unique hashtags and captions to your Instagram story. Pixwox for Instagram and Repost App has great features like no login required, full-quality video/picture downloader, quick Download of stories, copy link support, and sophisticated bubble service to keep you from switching apps. It also allows you to save time by downloading multiple images and videos simultaneously.
website: https://www.pixwox.com/
9. Stories IG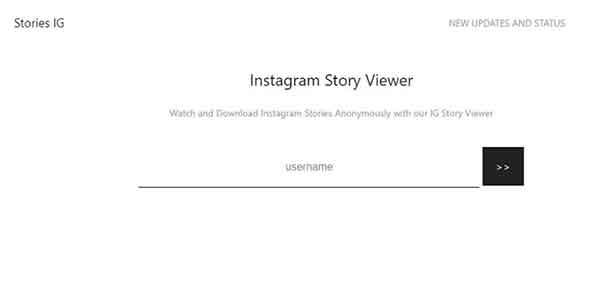 Are you looking for a simple Instagram story viewer that allows you to view stories anonymously? Then Stories IG is one of the services you should look into. This App is one of several alternatives to the StoriesDown service, which is widely regarded as one of the best.
Stories IG is essentially a website with no fancy design. It is intended solely for viewing and downloading Instagram stories without the need to create an account. The procedure is very similar to the steps outlined above for using the StoriesDown tool.
website: https://storiesig.net/
Picuki.com is a straightforward Instagram viewer and editor. Instagram followers, stories, posts, profiles, tags, and locations can be viewed and changed for free by the user. The user can also view their friends' posts, followers, and profiles they are following on the profile.
This also means the users of StoriesDown can search for any Instagram tag that piques their interest, such as # happy or # sad, on this tool. You can also view the likes and comments people have left on any given post. According to public reviews, it is simple to use, and people recommend it to their social network friends.
website: https://www.picuki.com/
11. Storistalker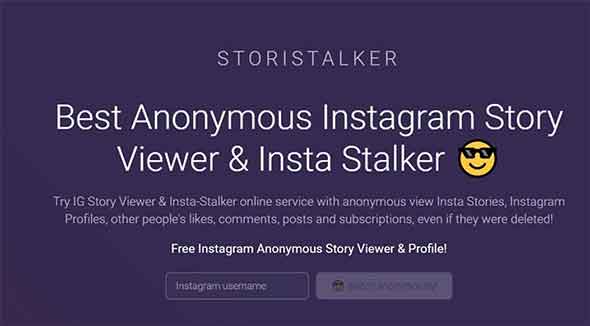 Regarding Instagram story viewing tools, StoriStalker is one of the alternatives to the StoriesDown tool. StoriStalker, on the other hand, is far more sophisticated. This is because it functions as a profile monitoring tool, allowing you to view even the user who has deleted stories. The basic feature functions similarly to the StoriesDown tool.
This will also give you access to all of the information on the profile, such as photos, videos, comments, and the number of followers the account has. If you create an account, the tool will track all of these details, including deleted stories, and save them for you to access later.
website: https://storistalker.com/
Instazu is a simple Instagram online viewer that has quickly gained popularity. Instagram has grown to become one of the most popular social media platforms. It has become so common that simply looking at someone's profile does not guarantee an account. People want to see their famous status updates and profiles on Instagram without signing up for the platform. Instagram has kindly provided this option with the StoriesDown-like tool Instazu, which is already making waves worldwide.
website: https://www.picuki.com/
13. InstaSave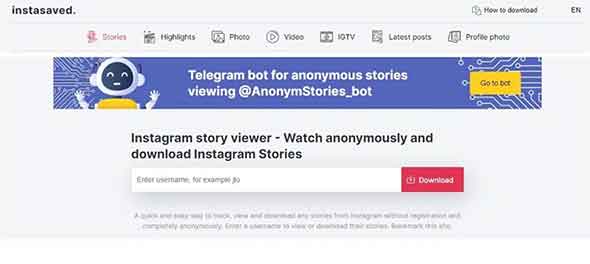 One of the apps you'll want to use in addition to the StoriesDown App is the InstaSave website. InstaSave does not perform the same function as StoriesDown. While StoriesDown is designed for viewing and downloading Instagram stories anonymously, InstaSave is designed for downloading Instagram videos and photos. It allows you to download IGTV and reel videos.
You must copy the URL of the video of interest, go to the InstaSave website, paste the URL copied from Instagram, and click the Download Now button. InstaSave is also a free tool that does not require registration to use.
website: https://instasave.website/
Smihub is an app that allows you to check Instagram anonymously. This App, like StoriesDown, allows you to view other people's profiles, photos, and videos, as well as their photos. You can also look up videos and photos. Smihub.com can also assist you in locating videos by searching for hashtags within the videos. This application also functions as a dumper.
website: https://www.smihub.com.co/
15. InstaDP

The InstaDP website includes several Instagram and TikTok tools that provide some of the same functionality as the official Instagram app. InstaDP does support an Instagram story viewer, which allows you to view Instagram users' stories anonymously.
Aside from viewing the stories, you can also download them, making it a viable alternative to StoriesDown. Profile downloader, photo and video downloader, and reels downloader are the other Instagram downloaders supported by the InstaDP tool. InstaDP is quick, safe, and well-liked by Instagram users.
website: https://www.instadp.com/
16. InstaSaved
The Instasaved service is not the same as the InstaSave service. While the InstaSave App has many features and downloaders, Instasaved is similar to the StoriesDown tool. This is because it is one of the Instagram story viewers that allows you to view stories anonymously.
The tool is simple, and the same steps required to use the StoriesDown tool are also required to use the Instasaved website. The service does not require you to install any software, nor do you need to create an account to use it.
website: https://www.instadp.com/
Picrew is a free online image editor and makowka character maker with various useful tools. It also has a simple drag-and-drop interface that makes it simple for people who aren't used to creating images with online editors like Photoshop or Gimp. Picrew character maker has more advanced cloud storage capabilities than StoriesDown, so you can back up your work files and share them with others, in addition to basic functionality such as crop, resize, and rotate.
It is designed to be a straightforward tool for creating visually appealing photos for use on the internet. Picrew is a free online makowka character creator with various useful features. It could be just what you're looking for if you want to build a library of fully drawn character designs for your game.
website: https://picrew.me/
FAQs
Is it safe to watch stories on StoriesDown?
If you use the StoriesDown website or web app to view Instagram stories, you will remain anonymous to the posters of the stories you view. This is because you are not required to log into an account.
As a result, the stories you view will not include your name among the viewers, making you anonymous to the story's posters. StoriesDown does not save your stories, making them truly anonymous.
Do Anonymous Instagram Viewers Work?
You can view an Instagram story without having your username appear on the list of those who have viewed the story. I've used all the tools listed above, and they all work. If you are not logged in and can view a user's stories, that user will not be aware that you have done so. It is that simple.