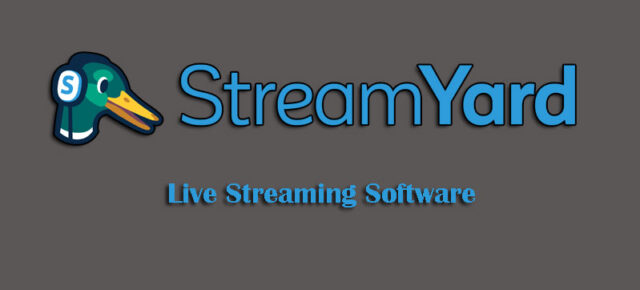 StreamYard is a sophisticated and free live streaming software that allows you to live stream over numerous channels simultaneously. In this StreamYard guide, we'll show you how to live stream for free!
How Can I Live Stream for Free Using StreamYard?
StreamYard is one of the top live streaming solutions on the market, allowing you to easily stream straight to sites such as LinkedIn, YouTube, Facebook, Twitch, and others.
You can quickly go live with visitors with only a few clicks.

Not only that, but StreamYard allows you to live stream on many platforms simultaneously.

If you need live video streaming software, many people and businesses like to use this.

Furthermore, you may personalize your broadcasts by adding overlays, colors, logos, movies, GIFs, and photos, all without prior expertise.
StreamYard Tutorial for Live Stream
1: Register for a StreamYard account.
You may find the free plan under "Pricing." Take note of the benefits and restrictions of the StreamYard free plan. One of the significant constraints is that your live streams will have a Stream Yard logo in the corner. Aside from that, you have a monthly streaming limit of 20 hours.
You must upgrade to the basic plan, which costs $20 per month, to remove the StreamYard logo. The subscription plan also comes with unlimited streaming, but it also comes with extra features like pre-recorded broadcasts, custom RTMP destinations, and so on, as well.
To get started with the free plan, however, follow these steps:
Click the "Sign up" button to the right of it.

Enter your email address here.

Click the "Get Streamyard Login Code" button.

Locate the 6-digit code in your email and enter it in the following step.

Click the "Login" button.

You have now finished your StreamYard login.
2: Integrate your Facebook Group.
In the following stage, select "small company" because we're building a live streaming account to engage with our audience. Click the "Onward" button.

Add the locations you wish to use with StreamYard. We'll use "Facebook Group" for this Stream Yard tutorial.

Follow the procedures outlined by StreamYard to connect with your Facebook group.

Search for Stream Yard in Facebook Group Settings.

Select the StreamYard app and press the "Add" button. Your StreamYard app is now linked to your Facebook account.

Return to StreamYard and look for the destinations in the Facebook group.

You may now simply stream into your Facebook group. To connect another channel with this live streaming platform, just click "Add a destination."
3: Create Broadcasts (Live Streams)
Go to the "Broadcasts" section on the left.

Before we start our first live stream, you can see that we have five hours of recording storage in the lower-left corner.

However, you may only use this function for the first seven days. If you want this functionality after that time, you must subscribe to a premium plan.

Select "New broadcast" from the drop-down menu when you click "Create a broadcast." Ensure that your channels are selected now (Facebook group in this case).

You can also choose "Record only" if this is your first time live broadcasting on Streamyard.

Now, proceed to:

Make a title for your new show, then Make a description.

Make sure the "Add comment instructions to my article" option is chosen.

If you choose, you can also click the box next to "Schedule for later."

Put a thumbnail image for your Streamyard broadcast here.

Set a start time: this is especially useful for Facebook since members in your Facebook group will be notified of the upcoming Livestream.

However, skip the scheduling step if you want to start broadcasting right away.

Click the "Create broadcast" button.
4: Double-check your audio and video settings.
Confirm your audio and video settings.

Before we enter our Streamyard studio, we'd like to make some decisions.

You can do the following:

Mute and unmute your audio.

Stop/start the camera (your avatar will replace your video feed). You may add an additional image to be used as your avatar by selecting "Edit Avatar."

Select "Cam/Mic". You may add an external camera or a computer microphone here if you like. We recommend leaving "Echo cancellation" enabled.

Select the checkbox next to "Automatically change mic volume."

With Streamyard live streaming platform, you can also use a green screen.

You may now adjust the display name if necessary. Then click "Enter studio."
5: Investigate the Streaming Options
You'll notice a blank screen when you go into the studio because we're not currently streaming anything. On the left side of your screen, you may notice that you are not yet a part of the stream.
To do so, click the "Add to Stream" button. You can select your favorite layout below the screen. There is only one person on the screen. Two people are being screened, but with a background. Screen for three people, with the main character on the left and everyone else on the right. Feel free to experiment with different Streamyard layouts based on the number of people watching the live stream.

Aside from that, you'll notice other options at the bottom of your screen, such as Mute, Stop camera, Cam/Mic

Use this to share a screen or a video file. With the free plan, you may have up to six people on the screen at the same time. If you need to add more individuals, just upgrade your plan at any time. Simply copy and paste the invite URL into Messenger, email, or Gmail.

Using the screen share option, you may share a complete screen, a window, or a Chrome tab.

Go ahead and open a new Chrome tab for this StreamYard lesson. Click the "Share" button. Now, select the "View tab streamyard.com" option. And as you can see, we've now started screen sharing on the Chrome tab.

To view it on full screen, simply scroll back up to the 'View tab.'

Again, experiment with several layouts to find which one works best for you. You may also remove yourself from the bottom-left corner; the other screen will now take up the whole space of the broadcast.

As a result, you may add extra screens to StreamYard that you can flip in and out of throughout your broadcast. You may rejoin the broadcast by clicking "Add to Stream" again.
6: Enable Comments
You'll see a "Comments" button on the right-hand side of your screen.

You should keep this option enabled since it allows you to see the remarks of your "viewers."

If you want to display those remarks on the screen for everyone to see, click on them.
7: Design a Banner
"Banners" are located underneath "Comments."

You may make whatever type of banner you want here.


A moving banner will now appear at the bottom of your screen. You may remove this banner from your live video streaming by selecting "Hide."
8: Research Your Branding Options
Remember how we said you could brand your StreamYard broadcast?
You may do so by selecting "Brand" from the drop-down menu to the right of "Banners." The theme may be changed here to minimal, bubble, or block.

In fact, until your StreamYard plan gets better, you won't be able to upload your logo, add an overlay, or make a custom background.

You can, however, add video clips before the start of your Livestream (a countdown, for example).

Even if the free plan has several limitations, understanding how to utilize StreamYard is essential if you want to start live streaming to many platforms at the same time.

In addition, you may enable or disable the "Show display names" option.
9: Play around with Private Chat.
"Private Chat" is located beneath "Brand."

This is where you may conduct private conversations with the guests on your show.

Step ten: Go Live!

"Edit" is located in the upper right corner. Before you go live, you may alter the name of your show here.

You may also confirm that you're ready to go live for chat on the correct channel. To begin live streaming, simply click "Go Live."
StreamYard Tutorial Wrap Up
This concludes our StreamYard lesson for beginners. This guide will show you how to start live streaming on many platforms at the same time for free! To get started with StreamYard, Go through the tutorial above and share your ideas, businesses, projects, or services with the rest of the world!