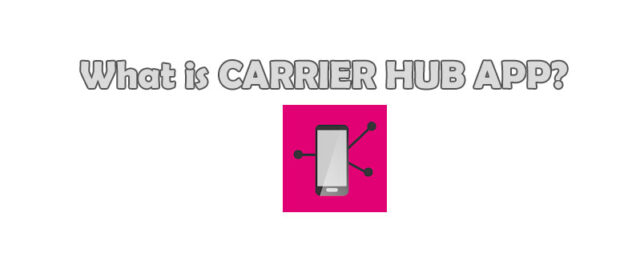 What is a carrier hub app? A carrier hub is an app that comes with your device, but it can also be found in the Google Play Store. It lets you use the sprint features on devices that work with the sprint network. It also lets you use some features, like voice-over Wi-Fi, on networks run by T-Mobile and Sprint. Their description on the Google Play Store says that the carrier hub can also help with customer service issues for people who use Sprint or T-Mobile networks. A T-Mobile USA app called Magenta and one called Carrier Hub is the two default apps that come with your carrier when you buy it from the play store. This is because Sprint and T-Mobile will merge in April 2020. Because of this change, these apps will have the same features.
What is a Carrier Hub?
Most Android phones come with the carrier hub app already installed. If you don't have it, you might get notifications asking you to download the app from playstore so that you can have a better time. You can then follow the notification prompts on the screen to download and install the app. However, sometimes the app doesn't download, which means you'll keep getting notifications even though you did everything right. People who use Sprint products and services won't be able to use these things and get the benefits that come along with them if they don't have an app called "Carrier Hub."
iPhones and iPads have apps that help you keep your family and home organized. Android phones have an Android hub that helps you keep your family and home organized as well. Through the hub, people can share calendars, tasks, lists, and notes, which helps them keep track of their busy lives.
Sometimes, when you use an app, the carrier hub services show notifications on your phone screen. These notifications are caused by two main things: either the Sprint app doesn't work with your T-Mobile network, or the new Android version doesn't work with your phone's carrier hub.
Is carrier hub necessary?
At the beginning of this article, we said that a carrier hub is a system app that does a lot of important things and services with features like voice-over Wi-Fi. There are a lot of devices that work well with your T-Mobile network. If it doesn't bother you, then let it stay on your cell phone, too. It's not a virus or an OMACP app, and it should help you in a lot of ways.
Carrier hub processing request
There are development tools that the carrier hub can use to get into protected storage, change secure system settings, and read log data. Because it connects to the internet, it has permission to show where it is, so it can show the exact GPS location.
This carrier hub app also has permission for network communication, which means it can see things like Wi-Fi and Bluetooth devices that are connected to the network. Carrierhub also has access to storage, which means you can change or delete data. The hub can also change phone statuses and answer phone calls as well.
It has permission to use system tools, which means you can use Bluetooth settings, connect and disconnect Wi-Fi, change network connections, delete cache data, and change system settings.
Things People Aren't Happy About Carrier Hub App
.
Many people have complained about how slow the carrier hub app is. For example, the app doesn't respond, or the carrier hub is taking requests from people.
A lot of people have complained about battery draining issues on their phones and tablets after installing or updating the carrier hub app. Currently, there isn't enough information to know how the carrier hub is still affecting mobile device battery life. However, these complaints should be taken seriously to figure out how battery life and the app are linked.
Another complaint against the carrier hub is that too much data is being used. You can't stop this app from running in the background of your phone, so it keeps taking up more space than most apps on your phone.
Some people have said that their phones and tablets were slow and sluggish after they installed or updated the carrier hub app.
Carrier hub crashing
Most of the time, the Carrier Hub app doesn't crash. If it does, it can be very annoying and frustrating to get notifications all the time because they keep coming up. Some of the reasons why the services app doesn't work could be because you don't have enough mobile data or Wi-Fi.
Sometimes server of the carrier hub app shuts down, which could cause problems with loading or too many people using the app at the same time, so you should try again later. If the app isn't responding, you could also try clearing its cache to see if that helps.
To go to Settings, click on it.

Followed by

A carrier hub was the first thing I thought of.

Storage

Then, click on "clear cache."
How to disable carrier hub?
The app is important to your phone, but some people might want to turn it off. Here is how to turn off the app that comes with your carrier.
Open the Settings app on your phone or tablet.

Take a look at apps and notifications.

In the top right corner, click on the ellipsis, and then you can choose what to do next.

It's at the bottom of the screen. You can tap it.

Make sure you search for the Carrier Hub app and then click on the one that is there.

Tap on the Disable icon to turn off the app, then restart your phone.
How do I get rid of carrier hub?
Most phones come with a carrier hub as a pre-installed app. This means that it doesn't work like other apps when you try to uninstall it. It's also possible to root your phone or use the ADB-Android Debug Bridge to be able to remove the app from your phone. This technique will also get rid of other Android apps, like mdmapp, that you don't want.
ADB can be used.
You can get full access to a Unix shell (called ADB), so you can run a lot of different commands on an Android device that you own. It is sometimes done this way to get rid of the carrier hub services app for good.
Take the Settings app from the app drawer on your phone and go to Systems. Then scroll down to "About phone" and click on it.

You'll be able to choose to be a developer if you tap the build number seven times.

Take a look at your main settings menu and click on the "developer" button.

Then, turn USB debugging on and get ADB on your PC.

As soon as it's done, you can move the zip file into a folder.

It's time to open the folder.

Press the shift key on the keyboard for a long time and right-click on the blank space. Then, click on the Open Powershell window in this area.

Enter the ADB command.

Using a cable, you can connect your phone to your PC.

To get rid of the carrier hub app, type in the command that comes up and hit enter.
Use the app remover on your computer to get rid of apps that you don't want.
First, your device must be rooted. Then, you can use the system app remover to get rid of the apps that are on your device.
First, you need to get the system app remover to do this.

After you download the app, open it up and look for the carrier hub. Then, check the box next to it to make sure it is checked.

Tap the Uninstall button to get rid of the app altogether.

Is there a way to stop the carrier services app from seeing my data?

If you want to keep the app from seeing your data, follow the steps below.

Go to Settings on your phone.

When you type usage data access into the search bar, look for it.

If it's on, use the button to turn it off.
Mcm client requests are processing carrier hub
People who use the app carrier hub sometimes get notifications about MCM client (mobile content management) requests that are being processed. Notice: This message is often seen after you start up your phone because it is trying to connect with cell towers close by.
When you connect, the notification will go away. This means that if you are in a place where there isn't a lot of services, you'll likely keep seeing the notification. The notification will show up on your screen if T-Mobile is down for maintenance. Your device will not be able to send texts, make calls, or use data until T-Mobile is back up and running again.
Wrap Up:
Carrier hub is a pre-installed app that comes with most phones when they're made by the company. A lot of useful things can be done with this app, such as making calls over Wi-Fi when it's connected to the T-Mobile network. Carrier hub runs on the T-Mobile and Sprint network, and it isn't a virus or a piece of spyware. As long as the carrier's default app doesn't cause any problems on your Android phone, you should let it run. If you think it's causing problems, you can disable or uninstall it by following the steps above.