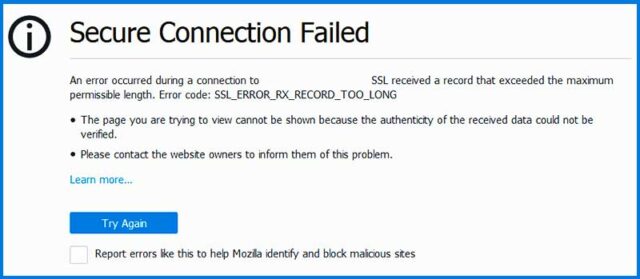 If you use the internet regularly, you will undoubtedly encounter error warnings. When you see an error message like SSL_ERROR_RX_RECORD_TOO_LONG you need to know how to fix it quickly so you can get back on track.
This post will present the problem and describe some of the most typical causes. Then we'll go over seven options for dealing with the SSL_ERROR_RX_RECORD_TOO_LONG problem. Let's get this party started!
What Does SSL_ERROR_RX_RECORD_TOO_LONG Mean?
The SSL ERROR RX RECOD TOO LONG error is a Mozilla Firefox-specific issue. In other words, you won't see it if you use another browser, albeit they may have their own versions of the problem.
The precise phrasing might differ. However, in addition to SSL_ERROR_RX_RECORD_TOO_LONG you'll usually get "Secure Connection Failed"
This is a rather typical blunder. Fortunately, there are a few tried-and-true methods for dealing with it.
However, before you begin troubleshooting, you should be aware of certain probable causes. Also, check our article on how to fix HULU error code 2(-998)
What Is the Root Cause of the SSL_ERROR_RX_RECORD_TOO_LONG Error?
As you can see in the picture above, this error notice provides some information regarding the problem. It might say that the website you're trying to see can't be shown because "the validity of the submitted data could not be validated."
How to Repair Firefox SSL_ERROR_RX_RECORD_TOO_LONG Error
Now that we have a better understanding of the problem, it is time to go to work on resolving it. The following are seven techniques for resolving the SSL_ERROR_RX_RECORD_TOO_LONG problem.
Clear the browser's history and cache.
To begin with, let's start with the simplest and most probable solution of all: deleting your browser cache and history.
Uninstall and reinstall Firefox
Another possible solution to the SSL_ERROR_RX_RECORD_TOO_LONG problem is to update and reset your Firefox browser.
Disable Browser Extensions
Disabling your browser addons is another option. This is especially important if you have ad blockers, firewalls, or antivirus plugins installed.
Play around with the HTTP Protocol.
If you continue to receive the error notice, you might attempt to circumvent the security protocol. In other words, the "s" in the "HTTPS" section of the URL address can be removed
Examine Your Proxy Settings
Another reason you may be seeing this SSL_ERROR_RX_RECORD_TOO_LONG error is if you have the incorrect proxy connections.
The first step in determining whether this is the case is to deactivate your proxy settings. You may do so by going to the Firefox menu and selecting Settings.
Change your TLS settings
As previously stated, this error might be caused by your TLS settings. As a result, changing your options may help.
Add the website to your trusted websites list
To fix the SSL_ERROR_RX_RECORD_TOO_LONG error in Firefox, add the site you're trying to reach to your list of "trusted sites."
Conclusion
When attempting to access a website, you may get error warnings. This is especially true if you receive an ambiguous error code, such as SSL_ERROR_RX_RECORD_TOO_LONG
As we covered in this essay, there are numerous easy remedies to this error message that you may attempt.
After cleaning your cache and restarting your internet browser, Try updating the proxy settings and change your TLS options. If you need more help with this or similar problems, you should talk to the site's owner.