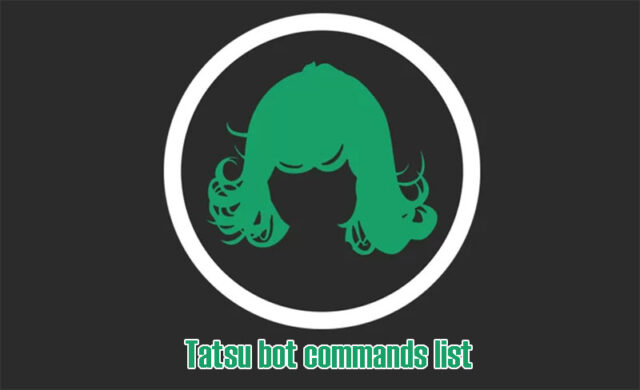 Tatsumaki Discord bot called Tatsu can do a lot by using commands. Here is the full list of Tatsu Commands for using the Tatsumaki bot. It is used for things like moderation, getting more people to talk on the Discord servers, and a lot more. Here, we'll look at some of the most common Tatsu Discord commands that can be used to do things.
In addition, it gives you a lot of Tatsumaki Bot commands or Tatsu Bot commands, which you can use to set welcome messages and other things. The Tatsu Discord Bot isn't just for Discord. It also lets you search the web, stay up-to-date with the RSS feed, and more right inside Discord. The bot will also allow you to change the bot's settings from a separate dashboard.
Why do I need to use the Tatsu Bot?
Tatsu or Tatsumaki is one of the most popular and well-known bots for Discord. It focuses on social aspects and makes your server fun by giving commands. If you use Discord, the Tatsu bot is very popular. It's made by some of the best programmers, and it's very popular.
The Tatsumaki bot is a well-known and well-respected one that spreads its hands over most of the servers on Discord. So why is it so great? Because it has some of the best features. The top ones are the bot's services of providing incentive activities that allow people who leave to earn XPs and also let them level up based on a very interesting criterion.
As a bonus feature, the bot also allows members of the server to earn a reputation. It is displayed on each member's profile. Members can also upvote other members of the server based on their activity and behavior. People can be judged on their reputations and upvotes, which makes a server a better and more organized place to play and be.
The advantages of using Tatsu commands:
One of the most talked-about features of Tatsu is its "incentive system," which encourages users on servers to be more active by letting them get levels and XP for being active. You can also spend real money to change the look of your cards. On the Discord server, you can see how well you're doing by looking at a card that looks good. This makes you want to talk to other people more.
Tatsumaki Bot commands can also be turned off completely or only in certain channels. Its t@prune command is one of the most useful. It lets people who have permission delete a certain number of messages based on the user, the text in a message, the type of user who sent the message, and more.
It has built-in search and other features.
The above-mentioned features aren't bad, but the bot has a lot more to offer its users, like voting. Users can vote on a specific topic, start straw polls, start lotteries, and choose winners by-poll. Besides that, Tatsu also has one of the most popular features that every bot should have, which is a built-in search feature in Discord that shows the top results of searches from Google and other sources like YouTube, Wikipedia, and more.
As a bonus, the bot also has reminders for events that it sends notifications about so that you don't forget about important virtual gatherings over the server. Tatsu is a good bot to try because it has a lot of good things about it, and it's also a good thing to have on your servers. Not only does the Tatsumaki bot say that it is the best one, but it also defines perfection in the best way. There are a lot of great things about this bot, so you should give it a try on your servers. You won't be sorry about adding it to your server at all.
How to use Tatsu bot commands Discord
The t!help command gives useful explanations and examples to help people learn how to use all Tatsumaki commands. Using the command once shows a list of other commands that can be used. Using the command again with another command in front of it shows specific help for that command. For example, t!help fishy gives advice on how to use the fish command. T!help 2 can be used to show a list of the standard commands that aren't very important. Also, check for counting bot discord.

If you want help with moderation and administrative commands, you can use t@help. It shows all of the moderation commands and explains them in the same way as the help command.
Tatsu bot commands list
.
This is how to use Tatsumaki bot commands.
/fishy casts
This Tatsu command casts out a fishing rod and hopes to find some fish!
fishy rarefish
This Tatsumaki command shows off your rare fish.
/fishy inventory
shows how many fishy things you have.
/fishy redeem
People buy or trade rare fish.
/fishy stats
shows how well you fish by using this Tatsumaki command
/fishy sell
used to sell your fishy stuff.
/pet interact clean
used to clean your Tatsugotchi's dirty mess.
/pet interact play
lets you play with your Tatsugotchi for a while.
/pet interact feed
Command used to feed your hungry pet on Tatsumaki bot.
/pet interact prestige
used to update your pet's prestige by resetting its level. You need a level 50 pet to play this game.
/pet interact visit
shows the user's rooms with both of their Tatsugotchi.
/pet interact train
shows your Tatsugotchi how to do some things if it listens to you.
/pet interact walk
Take your Tatsugotchi out for a walk, and you might find some things along the way, too.
/pet misc carer
Then, choose a carer from the list that is there to look after your Tatsugotchi.
/pet misc capsules
Select a Tatsugotchi capsule from the list of ones that can be opened.
/pet misc chart
shows the drop rates of a pet capsule.
/pet misc nickname
select a nickname for your Tatsugotchi using this Tatsumaki command.
/pet misc edit
used to open a universal editing menu for the whole of Tatsugotchi.
/pet misc nursery
lets you see all of your Tatsugotchi with their relevant stats.
/shop
When you click on the shop menu, you can go to the store for an event, expedition, or the whole world.
/pet misc unwrap
unwraps one of your Tatsugotchi that were already wrapped.
Tatsu commands not working?
Sometimes, the Invite Tracker Bot for Tatsumaki might have problems, such as Tatsu not responding or not being online at the same time. When this happens, it could be because a bot server is down for any reason. If you have this problem, check-in with the Invite Tracker Support Community Server.
Also, make sure that you have given the Invite Tracker bot the permissions it needs to prevent Discord error. This can be done in the settings tab.