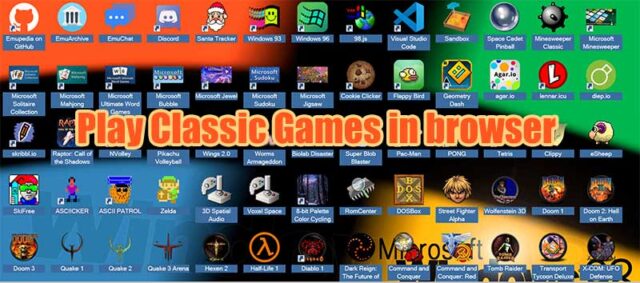 EmuOS is a browser that lets you play the most popular games on a browser at no cost. This article explains what EmuOS is, how to download it, and answers many other questions: play old-fashioned, classic games using EmuOS in a browser. It lets you play your favorite games on the internet for free.
In this article, we'll walk around you about this platform and how you can play games online. The old games are saved because of the existence of emulators. The supported browsers, as well as traditional (retro) games, can be played with EmuOS. If it weren't for emulators, it would be extremely difficult to play these games on their original platforms. You can also choose to use the Windows interface. So websites have made it their mission to preserve a variety of classic games by emulating Windows directly through the internet to run a variety of games and applications.
How to use EmuOS?
EmuOS is a no-cost emulator that is open-source and Ubuntu Linux-based. Emu-OS is a piece of software that lets you play games from the past. EmuOS is compatible with eight consoles and platforms and provides a variety of emulators with an easy-to-use interface.
EmuOS intends to "serve as a non-profit, meta-resource hub, serving as a central point and community for people who are interested in the preservation and conservation of video games." Its aim is to gather, archive, and digitally preserve games as well as software that allows them to be accessible through a user interface that mimics various operating systems from the past to aid in education.
With a user-friendly interface, EmuOS allows you to play classic games on the internet for free. The video game preservation project isn't unique in its genre as the Internet Archive hosts a multitude of applications and games, including DOS game collections, Commodore 64 emulation, Internet Arcade, etc. If you're looking for an emulator for a variety of games on consoles, RetroArch can be a good alternative. Although EmuOS can also help archive and save games in a different manner, EmuOS also comes with the Emupedia webpage on GitHub, where you can find more details about EmuOS.
What is the process behind the EmuOS function?
EmuOS generally emulates Windows 95, Windows 98, or Windows ME in a web browser. Emulations of these operating systems include a myriad of executable software and games directly within the browser. All of them are emulated in JavaScript, which runs extremely effortlessly in all browsers.
Once you have selected the operating system, you will be greeted with a screen filled with icons. The icons are easy to identify. To run an app or program, all you need to do is to double-click on these icons. The performance of every component depends on the capabilities of your system, but it should perform well with all. It is essential to have a powerful processor, as it will be responsible for the simulation that happens in the virtual environment.
Certain online games require permission to run on our computers because they need to download certain data, such as Quake 2. Other games, such as Doom as well as Quake 3, don't require a special account. A lot of these games can be bought on platforms like GoG, and, however, all the games that are featured on this website are open-source. We have games such as Minecraft, Half-Life, or Tomb Raider that are accessible by a player. Below is a comprehensive list of games that you can play using EmuOS.
What emulators work in conjunction with EmuOS?
In order to achieve this, the team gathers content that is not supported by the system, obsolete software such as shareware or freeware open-source ports of old games that can be played in modern browsers, as well as new games created using the latest technology but using retro graphics. MAME, DOSBox, Em-DOSBox, and emularity are the emulators used. JS-DOS, which allows users to play MS-DOS games for free.
EmuOS to a USB stick
It is possible to download emuOS via emuos.com and then install it on a USB drive so that it can be used with both PC and Mac computers. After the installation process has been completed, you will be able to access emuOS within your browser by visiting Webpage.
After emuOS has completed loading, you can select "Launch." If you're prompted to do so, click "Launch" to open an ad-hoc window with Adobe Flash Player. This can only occur when you've installed emuOS on a USB drive and not when emuOS is loaded on your computer.
Once you've clicked "Launch," emuOS will begin to load and will then provide you with the main menu of emuOS, which allows you to select which operating system emuOS will emulate. Emulators were created to operate on different browsers, such as Firefox, Safari, or Google Chrome.
You can only select one emulator at a given time for each USB stick that is installed with EmuOS. If you can, it is advised to install emuOS on separate USB sticks in order to play with multiple emulators (for instance, NES, SNES, and Genesis).
EmuOS to internal storage
EmuOS is also able to run on an internal HDD or SD card. In order to accomplish this, emuOS includes the emuSetup software that allows you to run emuOS on internal storage. EmuOS's emulators are created to work best in conjunction with emuOS, but they are also able to be used as standalone applications (without the need for emuOS).
Emulaters included in emus.
x53 NES emulator

s53 SNES emulator

G52 Genesis Emulator

G2x3d GameBoy Emulator
Browser Compatibility
On the GitHub page, you can see the complete list of the web browsers that are compatible, and among the top ones, you will find almost all of the browsers on the market, beginning with Firefox 3 and later, Google Chrome and later, Edge and later, as well as other browsers like Opera and Safari.
EmuOS currently supports cross-browser compatibility, and the major ones are all widely known in the market, such as Google Chrome, Opera, Microsoft Edge, Mozilla Firefox, and Safari. Additionally, its GitHub page outlines the most recommended version for every web browser. This is vital to the success of the website.
EmuOS is a retro-themed gaming platform with a huge selection of virtual games from the past that provide the user with endless hours of entertainment. EmuOS also lets you see a glimpse of Microsoft's first user interface for operating systems.
How to add games to EmuOS?
You don't have to download it because it works with an internet browser. You just have to go to the EmuOS website to begin enjoying old games. There are a lot of mirrors. It is simple to identify the other one that is more efficient.