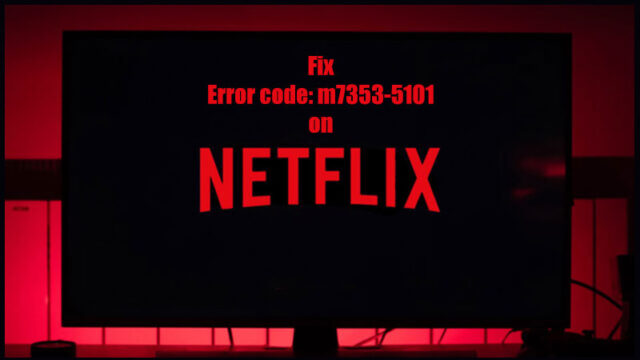 How to fix error code: m7353-5101 – If you encounter the Netflix error code: m7353-5101, follow this simple guide. Netflix is the primary streaming option for home television users. Netflix service was subscription-based that deliver DVDs straight to your doorstep When it started 20 years back.
In 2007, Netflix started its streaming services, allowing users to watch thousands of on-demand movies and TV shows ad-free. Ten years later, Netflix has become one of the most popular and biggest names in entertainment, producing its TV shows, Movies, and hosting original comedy specials.
Error code: m7353-5101 on Netflix, what is it?
If you see the error code: m7353-5101 on your PC, it means that an extension on your browser is conflicting and preventing Netflix from working properly. Follow the troubleshooting methods below to fix this problem.
How to fix the Error code: m7353-5101?
Follow the steps below to fix it.
Reboot your computer
Turn Off your computer completely and reboot it.

Try to rerun Netflix. If you still see the error code: m7353-5101 go to the next step.
Turn Off all extensions on Google Chrome.
If you are using Google Chrome, you may want to disable unnecessary extensions and add-ons.
In the address bar on top, enter this phrase 

chrome://extensions

.

A list of extensions and add-ons appear In that list of extensions; turn off any extensions that are turned on.

Then Try Netflix again and see if the error code: m7353-5101 persists.
If the above step solves the problem, try turning on your extensions one by one to check which one is conflicting with the Netflix website from not working properly.
Try to Update your Google Chrome browser.
If nothing is working from above to resolve the error code: m7353-5101, then try to uninstall and reinstall your Google Chrome browser or update your current installed browser by following the steps below.
Select the Menu icon, which is at the top right corner of your browser.

Then Select Help in the list.

Tap on the About Google Chrome option.

Chrome will display the currently installed version and then automatically install the latest available updates.

Select the option Relaunch to complete the updating process.
Give it a try for Netflix once again. Hopefully, this will fix the error code: m7353-5101 on the Netflix site.
Wrap Up
Netflix error code: m7353-5101 is one of those streaming issues that shows something that went a wrong message that halts and conflicts with movie playback. We hope that following the above steps will fix this error and let you enjoy your Netflix streaming session. Like and share this post with your friends if it helped you.
Related Error Codes on Netflix:
error code: m7361-1253

netflix error code: m7353-5101

error code: m7121-1331

error code: m7399-1260-00000024

netflix error code: m7361-1253

error code: m7111-1331

error code: m7111-1935-107016

error code: m7361-1253 netflix

error code: m7020

error code: m7121-1331

error code: m7399-1260-00000026

error code: m7363-1260-00000026 netflix

error code: m7701-1003

error code: m7034

error code: m7703-1003 netflix