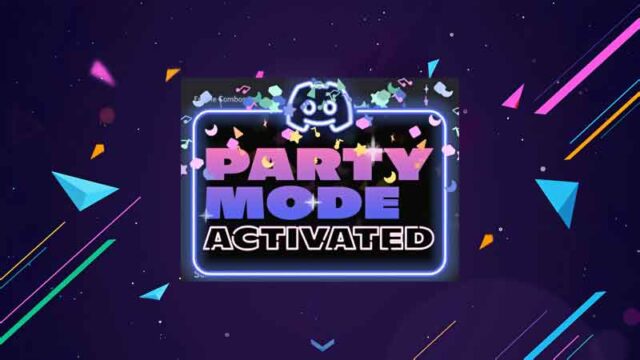 Is Discord Party Mode available on mobile in order to unlock all achievements? Find out more here. As you may be aware, Discord Party Mode will be accessible from Friday, May 13th, 10 AM PST, until Monday, May 16th, 5 PM PST. Because the platform has both PC and mobile users, you may be asking if Discord Party Mode is available on mobile. How can I get to it?
Is Discord Party Mode available on mobile?
Unfortunately, the Discord Party Mode feature is not yet accessible for iOS and Android mobile users.
We tried the same techniques as Discord PC users, which is to go to your User Settings, and we also checked elsewhere. However, because the concept of Discord Party Mode is mostly built on combinations and achievements, which require quick typing, it is best suited for PC gamers. Furthermore, the screen shake and confetti will be unsuitable for mobile. Thus it's obvious why Discord made this party mode.
While this is unfortunate for mobile users, perhaps a different event or celebration will be held for this segment of the public, or perhaps not. There is a workaround you might wish to try.
How to get Discord Party Mode on Mobile?
To access Party Mode on mobile, go to Discord.com in your mobile browser.
Tap the three dots in the upper section of the right corner and select "Desktop Site" from the drop down menu.
This will change your view to look like it's on the desktop.
Log in to Discord from here and go to User Settings, just like you would on the PC UI.
Simply enable Party Mode on Discord, and you're done.
It will be more difficult to use than the mobile app UI. Obtaining combos may also take some time, depending on how quick and powerful your gadget is.
That's all there is to know about Discord Party Mode for Android and iOS. While you're here, have a look at all of the hidden and secret locked achievements you need to uncover about Discord Party Mode.
Party Mode on Discord will be accessible for a limited time and will include Combos, Screenshake, personalized Confetti, and other features as you engage with your customer.
You will be able to use Party Mode, which is only available on desktop and web browser clients. There is no party mode in the Android or iOS mobile apps.
You may also like, How to fix Discord Error 500
What is Discord Party Mode?
Party Mode achievements are presented to you in honor of Discord birthday! Consider your Discord client to be your living room. Consider yourself to be in the room. As you begin to speak, confetti showers down from the sky, and a combo counter appears alongside you as if your words are punching through the fabric of reality.
You glance out your window as reality begins to unravel, and the ground beneath your feet begins to tremble. As you hear people cheering, "WUMPUS," In any case, that's Party Mode.
How to turn on Party Mode Discord?
How to Enable Discord Party Mode:
Sign in to your Discord account using your PC credentials.
To activate party mode, Navigate to the user settings page.
Go to App Settings and select Party Mode. Select Party Mode.
Select "Enable Party Mode."
Toggle off party mode if you wish to disable party mode.
Discord Party Mode All Achievements Guide

Here are all of the Discord Party Mode secret achievements.
To commemorate Discord 7th birthday, users will receive a unique, limited-time Party Mode. It was distributed to all users on May 13th, 2022, and will remain active until May 16th, 5 pm PST. Here's how to unlock all hidden and locked achievements of Discord Party Mode. If you don't want to be spoilt and prefer to figure things out on your own, now is the time to back out! But if you're certain you want to know what it takes to get them all, keep reading.
Dont miss to read how to create a Discord PFP GIF
How to get all Discord Party Mode achievements?
If you haven't already, go to your User Settings and enable Party mode. On a PC, click the gear icon near your username at the bottom left of the screen.
Now, locate Party Mode and enable it. This will grant you your first achievement! Make sure the "Enable Combos" tab is turned on.
Let's see how to unlock these options.
| | |
| --- | --- |
| Achievements | Steps To Do |
| Is this thing on? | Enable Party Mode |
| More!! | Increase shake in party mode |
| Click for your free prize! | Visit the settings of Party Mode tab 100 times |
Fix for Party Mode Not Working on Discord

If you have the Reduced Motion setting enabled, it will conflict with Party Mode functions. To find out, go to User Settings > Accessibility > Enable Reduced Motion. Confetti and Screenshake will be disabled in Party Mode if you wish it to be ON.