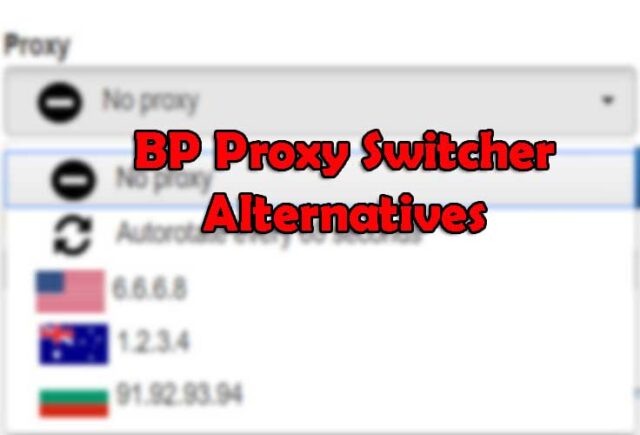 BuyProxies, a prominent private proxies provider, provides the BP proxy switcher. This Chrome proxy extension allows you to add all proxies from a URL or clipboard rapidly. After you've uploaded these proxies, you may switch between them with a simple click of the button.
Furthermore, the BP proxy switcher has an auto-rotate option that switches the proxy every 60 seconds. One of its distinguishing characteristics is that it indicates the nation for each proxy. You can also clear the cache before switching to a different proxy. But unlike other browser extensions, this one doesn't have a proxy for each tab; it works for the whole browser.
While proxies may be very useful for online anonymity, setting them up can be time-consuming, especially if you need to switch them regularly. You'll definitely agree that repeating the entire process is tedious and time-consuming. On the other hand, BP Proxy Switcher makes it easy and painless to change proxies on Chrome. It usually only takes a few clicks.
BP Proxy Switcher
Buyproxies.org provides the BP Proxy Switcher. We are sharing a popular provider of private proxy services. With this Chrome proxy plugin, you can effortlessly add all of your proxies from a clipboard or URL. You may quickly switch between proxies after the upload by pressing a button.
Additionally, it has an auto-rotate option that switches the proxy every 60 seconds. BP Proxy Switcher can display the country of origin for each proxy. It also enables you to clear the cache before switching to a new proxy.
However, like with different extensions, there is no option of single-tab proxy; instead, the browser determines which proxy you use at any given time.
How to use BP Proxy Switcher?
With a simple click, you may change proxies.
You can load a list of proxies from the URL or clipboard to BP Proxy Switcher once and then switch between them with a single click to this Chrome proxy extension.
Proxy plugin configuration options
Make a list of the nations that are affiliated with each proxy.

Clear the cache before switching to a new proxy.

When you change the proxy, the current tab should refresh automatically.

Change the proxies automatically every X seconds.

Load the proxy list from a.txt file every X minutes through a URL.
How to Use the BP Proxy Switcher to Add Proxies
1. After adding the extension to Chrome, click it to see this.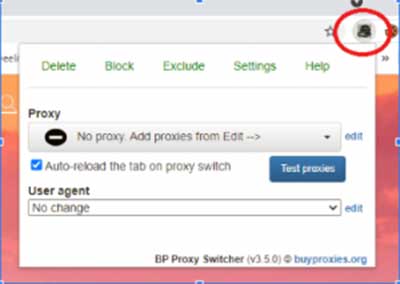 2. Select "edit."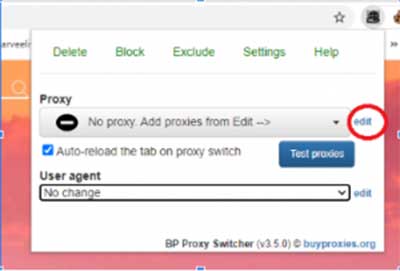 3. Use the ringed format to add the proxy.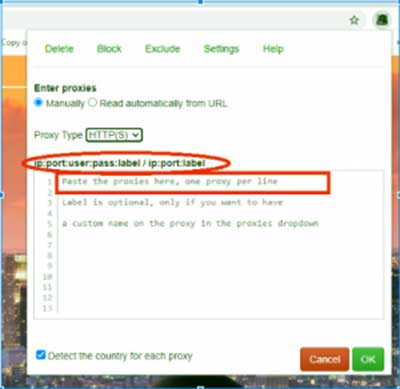 Because of Chrome's limitations, it is impossible to establish a separate proxy for each Chrome tab; instead, the proxy is configured for the complete Chrome profile using BP Proxy Switcher.
Best Proxy Switcher Chrome Extensions
Do you want to find the best Google Chrome proxy extension? If so, you may find the best extensions below, each with its distinct qualities that have made them so popular.
Changing proxies frequently is inefficient and time-consuming and display errors sometimes. However, with the Proxy Switcher Extensions, you can effortlessly change proxies for your Google Chrome browser with only a few clicks.
Alternative Chrome Extensions for BP Proxy Switcher in 2022.
The following are some of the best Switch Proxy Extensions for your Chrome Browser. These BP Proxy Switcher alternative extensions are available for download from the Chrome Web Store.
FoxyProxy is a well-known brand in the proxy business due to its renowned proxy management solution, GeoShift. FoxyProxy's GeoShift feature lets you switch between 100 different countries and access the web from various cities worldwide.
This tool is simple compared to BP Proxy Switcher for use and completely free. However, to use this Chrome extension to switch between proxies and servers, you must first establish an account with FoxyProxy.
It also features a high bandwidth and reliable VPN. FoxyProxy includes a collection of proxy servers that allow you to access local internet websites and content. It also has a Firefox add-on, which is more popular than its Chrome extension.
This is open-source software, with the source code available on GitHub. It allows you to contribute to its codebase. Proxy SwitchyOmega is a fantastic Google Chrome extension and proxy management tool that allows you to manage and switch between different proxy files and servers in minutes.
This utility does not require you to set parameters for each proxy because it handles them all at once. This proxy manager is available as a Chrome extension, just like BP Proxy Switcher. Almost a million people have downloaded it. The program makes swapping proxies.
Proxy SwitchyOmega features an "Auto Switch" function that links certain sites to specific proxies. However, this extension is useless if you utilize a shared IPS because it only works with proxies.
There are no connectivity concerns. You enter a list of all your proxies and then switch between them using a pop-up button.
The Proxy Switcher and Manager utility, as the name implies, functions as both a proxy manager and a proxy switcher. It makes it easy to manage multiple proxies and switch between them using a simple user interface.
One feature that distinguishes this extension from other proxy switcher apps like BP is that it provides free proxy services if needed. You shouldn't use free proxies because they are slow and have other problems.
The Smartproxy Proxy Changer for Chrome allows you to switch between proxies. After detecting your pattern and setup, it activates and disables the proxy for websites you visit. With this BP Proxy Switcher alternative Chrome extension, you don't have to change proxies. This makes it simple to switch between multiple proxies.
However, you should be aware that this Chrome extension is not the same as the Smartproxy Extension, the proxy manager provided by the prominent proxy supplier, Smartproxy.
Proxy SwitchySharp is an alternative Chrome extension to BP Proxy Switcher that allows you to manage and switch between several proxies effortlessly. It eliminates the need to change the proxy manually from the 'Advanced' settings area.
It also supports data export and import, with the import mechanism allowing you to incorporate your proxy list. When you install Proxy SwitchySharp for the first time on your Chrome browser, it adds a button to the toolbar that lets you access the proxy.
You may then switch between the several proxies you've installed to access the internet. Over 500,000 people have downloaded this Chrome Switch Proxy Extension. Despite being a popular extension, its makers have not updated it in over a year.
This is an excellent Chrome proxy management tool. It offers an easy-to-use user interface. The Proxy Switcher allows you to change proxies directly from the toolbar. You may also use this app to browse the internet anonymously. You do not need to go through the lengthy list of options since you can quickly add and alter your proxies with a few clicks, making it a perfect alternative to BP Proxy Switcher.
The Proxy Switcher also supports PAC proxies. This utility masks your IP address, allows you to visit blocked websites, automatically switches proxies, and allows you to access password-protected servers. The Proxy Switcher is also available for Opera, Internet Explorer, Firefox, and Chrome.
Conclusion
The proxy switchers and managers described above perform almost similar roles with minor variances. You may use any or all of these extensions like BP Proxy Switcher because they are all excellent. Furthermore, they are all provided for free. These proxy switchers and managers might help you ease the proxy switching procedure in Chrome.
Using a Proxy Switcher as an Alternative
All of the extensions described above perform admirably when updating static proxies. However, rotating proxies allow you to swap proxies automatically without an extension.
A rotating proxy updates a user's IP address after a set time or after each request. This is why, when employing rotating proxies, proxy switchers are not required.