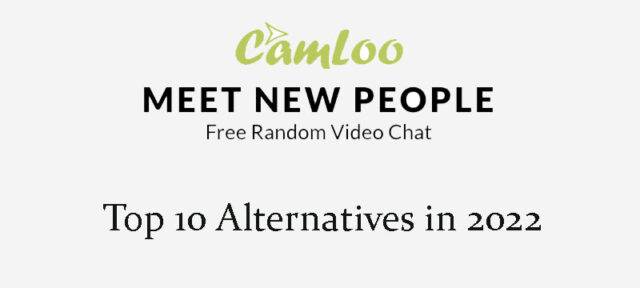 Camloo is a simple social networking platform that allows you to have video conversations with individuals worldwide. Camloo allows you to start a video chat with a single click, making it easy to make new acquaintances, online dating, chat and have in-depth conversations.
Camloo Features
Camloo gives you a great chance to meet new people in your area or your favorite country by choosing the location of a certain station. It allows you to speak with your new friends via emoticons or cartoons and respond to remarks while live chatting via its simple chat.
Because Camloo has a community of thousands of individuals who wish to communicate with you, it also allows you to end the current video call and go on to the next one using its Stop and Next buttons. This case makes sure that you can export or import images and short videos from a certain folder in your gallery.
After some time, when you become familiar with your acquaintance, it allows you to start a high-quality video conference with interesting beauty filters that make you look nicer.
Alternatives to Camloo for Android
AHA Live Random Video Chat
It is one of the greatest random talking applications for meeting interesting and intriguing people worldwide with each swipe. Amy and Brody Limited designed and launched this software, similar to Camloo, for Android smartphones.
It lets you make video calls to connect with other users and make friends, even if you don't use texting apps like WhatsApp. Chatting with others will quickly reveal whether your personalities and hobbies are compatible.
AHOI Live Video Chat
The app includes features such as Camloo to assist you in creating your profile by selecting your hobbies to begin speaking with others who share your interests.
Users can also report a profile to have it blocked. The app has a large range of interests, and you may select an interest by tapping on the appropriate sticker.
Users can choose their preferences, such as gender, distance limit, and age limit. You can change the age limit in the settings area by moving the slider control.
HOLA

HOLA Private live random video chat software allows you to initiate a private video conference session with both friends and strangers.
It has buttons that let people quickly get to shows, moments, profiles, swiping, chat, and other sections. The software has features that allow you to engage in group video chat by inviting your friends and 1-on-1 video chat, similar to Camloo.
Users may also add profiles to a blacklist to prevent them from making voice calls, video calls, or sending messages.
Yochat
The Yochat software allows users to learn about strangers from various nations across the world by video chatting with them. You may watch strangers by selecting random settings, and you can even view strangers via live video chat.
Make Pals in Random Video Chat has the capabilities to assist you in translating text messages from your friends in real-time so you can respond quickly.
Camloo users may also engage in face-to-face conversation with strangers to convey requests to them, or they can use the flag button to complain and ban them from the app.
ChatBud
The ChatBud app has features that allow you to communicate with strangers and make new acquaintances. Users may also send emoticons to express themselves. It allows you to end an active chat session by tapping the stop button and beginning a new one.
Random Stranger Speak software allows you to chat anonymously with strangers worldwide without revealing your location.
Unwanted strangers can be added to a user's blocklist to prevent them from getting communications. This is a decent alternative to Camloo.
Quack
Meet Genuine Friends with Similar Interests app includes features that help users browse the profiles of trusted individuals to make new friends by examining the profiles of their current friends.
Users can obtain ideas by sharing a stranger's profile with their friends. In 2022, it was the popular Camloo alternative. You can form groups and invite like-minded people to them to share ideas and learn new things.
Make Real Friends app allows users to vote on characteristics of former friends and bypass voting to go on to the next voting session. You may browse your friends who are now online by going to the chat section.
Get More Friends
The Get More Friends app has features that allow users to meet with boys and girls from their hometowns and other areas of the world. You may use in-app money to learn more about strangers and read their entire profiles.
This Camloo alternative software lets users send a message to their new friends to share their feelings. You may explore strangers' profiles based on their gender and view their profile photos to learn more about them.
Jelly
The Jelly Meet New People app has alternatives for discovering new friends based on their hobbies, similar to Camloo, and connecting with them to spend your spare time learning about diverse cultures.
It is possible to send new friends multimedia messages with pictures, movies, and audio recordings. You can also give them gifts to show that you are kind.
The Jelly app has features that allow users to search for friends based on their height, age, distance, ethnicity, religion, language, and interests.
Chat Hour
The Speak Hour-Meet New People app has features that assist users in making a new account by entering their information to chat with local and international users based on their relationship needs.
In contrast to Camloo, you may save all of your recently sent messages to see the history of your talks with strangers. To complete your profile, input your talking routine, height, weight, body type, hair color, eye color, tattoos, age, gender, home country name, religion, and name into the Chat Hour app.
Meet USA
Chat & Meet Friends app allows you to meet people from all across the United States, exchange text messages, and stay connected to them for as long as you wish.
It has many conversations, and users may join other strangers by reading the title of a chat room. You can use the live chat tool to send multimedia assets like photos and videos to people you don't know. You can also send voice notes.
To ensure that their conversation history and other data are the same on all of their smart devices, you can link the Meet USA app to multiple social networks.
There are a few more options like MonkeyChat, Chat Pig, and ChatStep, which you can check here.
Final Thoughts:
This takes us to the conclusion of our search for the finest Camloo alternatives. All of these applications are fantastic. They protect your privacy and are simple to use. You have complete control over your future.