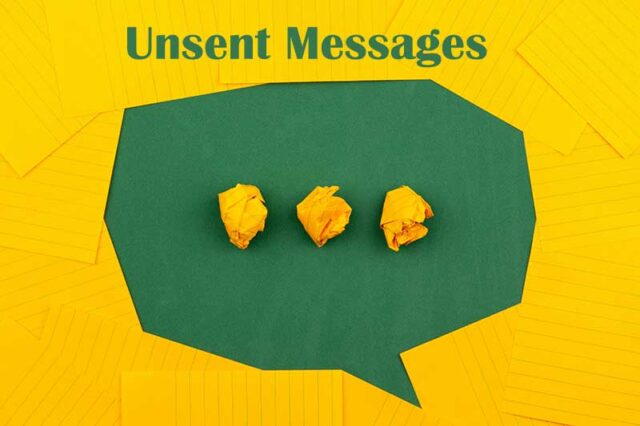 An archive of unsent messages reported by tiktokers. There was a video where someone said they found their messages and name on The Unsent Project. There's more to it than that. In the past, people searched for them on the website and got a lot of different results. People talk a lot about "unsent messages." Here's what you need to know about them.
How good is the Unsent Project to find unsent messages
If you look at the Unsent Project, you can see "unsent messages to first loves." It's not really a record of messages that people sent and then quickly changed their minds about. It may violate some privacy laws.
This project is somewhat similar to "Post Secret," where users send in confessions that they don't want anyone else to know about. In the Unsent Project, users anonymously send messages they think they could have sent to their ex-loved ones. Some people are kind, and others are mean. In each message, the person's first name is the only thing that is used. You can use this method to search for your name to see if anyone else is thinking about you (or someone with the same name, at the very least). Many people with unusual names have said there aren't any places for them.
Check out The Unsent Project to see if there are any messages under your name. In the search bar, type your name and see if it comes up. The Unsent Project went viral on TikTok. People looked up their names on unsent messages and saw that their names were on there, too.
Users can now unsend messages on Facebook Messenger
.
It's possible to unsend messages that you've sent on Messenger. Thanks to this new feature, people can go back and look at messages they've sent through the company's most popular messaging app. When you use this message recall option, you don't have to worry about sending messages you think should be unsent. This also gives you the chance to fix messages if there are typos in them, so you can do that.
As soon as you remember the message, it will no longer show up in your conversation and on the recipient's screen, too. It doesn't matter if a person is having a private chat or a group chat when they use this option. In encrypted chats, it doesn't work.
Here's the deal for unsent messages:
Because the "unsend" button does not mean that the recipient of the message cannot see the message again if they already saw it, users should keep this in mind.
People should keep in mind that even though Facebook now lets people delete messages, the company will still keep a copy of the message. Up to 14 days after the messages are unsent, Facebook can look at them.
Steps to Unsend Facebook Messages which you think should be unsent
.
When you use this feature, it's easy to see how it works. You can do this by following the steps below:
Tap and hold the message that you want to delete. This will show you what you can do with the unsent messages you've chosen. It's easy to delete messages on the web version of Facebook or Messenger. When you hover over a message, click the three-dot icon in the top right corner.
Then, choose "Remove." On the app, click "Unsend."
Remove for You or Remove for Everyone? " Facebook will then ask if this is what you want to do. People can choose to "Unsend for Everyone," or they can choose to unsubscribe from a list that only they can see.
Make sure "Unsend to Everyone" is checked. If you do this, everyone will be able to talk without the message being there.
When asked, choose "Remove" to confirm, and that's all there is to it! People you sent the message to will no longer see it in your message thread.
Remember that once you've sent the message, Facebook will leave a little note to let everyone know that you've sent it back. Even so, they won't be able to get back the original message.
So that's it! The next time autocorrect makes a mistake with your messages, you don't have to be so angry. Delete the messages you which should be unsent, and you're done.
How to unsend an Instagram message
Direct messaging someone on social media, like Facebook and Instagram, isn't always as easy as it should be. Typos happen a lot. There are also times when a sender sends a message to the wrong person. In the age of social media, this is a very common thing to happen.
If you send a message on Facebook that you didn't mean to send or typed wrong, you can delete it, so you don't have to be embarrassed. However, there's a 10-minute time limit for it to be done. If you don't get rid of a message during that time, it will stay in your conversation for good.
It's also possible to send someone an Instagram Direct message. Instagram direct messages are a good thing because you can delete messages you've sent without having to wait for a certain amount of time. Whether you sent a message yesterday or even a week ago, you can still delete it.
What happens next when messages on Instagram are unsent?
To hide a message on Instagram, you can choose to "unsend" it. It will no longer be visible to you and everyone else who was in the conversation. It doesn't matter if you're texting just one person or a group. The "unsend" feature will work no matter what. Instagram may still have a copy of the messages you've deleted, so you should keep that in mind.
Remember that the person who will get your message may already have seen it. So even if you don't send a message, they might already have a screenshot or screen record of it. If you are sending messages that are very important, you should always think twice, or even three times, before you click "Send."
On the other hand, the photo-sharing social network doesn't have a "remove message" button as Facebook does. This option allows you to delete or unsend messages, but only for yourself. The person who sent the message can't hide or delete it. Ask the person who sent that message to delete it. If you don't, you'll have to completely delete the conversation. People who were in the conversation will still be able to see it, even if you delete the whole thing.
On Instagram, how do I unsend messages I sent?
Instagram makes it easy to unsend a message. Do these things:
Take a look at the Instagram app on your iOS (iPhone) or Android phone. Make sure you are already logged in to your account before you start.
Take a look at the aeroplane icon at the top-right corner of your feed. Tap on it. It will show you a list of all of your conversations.
Open a conversation and choose messages that need to be unsent or removed from it.
Select "Unsend" when you long-press on that message.
The message will be gone right away! There will also be no signs that a message was not sent, like a transcript that was not sent. Once you've sent a message that you don't want, you can't get it back. Keep in mind that you can't un-send multiple messages at once. There isn't a way to delete a lot of emails at once.
There is still a way to report messages that haven't been sent.
If you look more into Instagram's rules about how unsend works, you'll see right away that your unsent messages will be included in a report if someone reports a chat or conversation, as long as it's done within 14 days of when the message was rescinded.
This means that Instagram won't completely remove your unsent messages from their database, but they will still be there. You may have thrown it away, but it will still be on your record for a while.
There you go!
As we said above, you and everyone else in the conversation will no longer be able to see any unsent messages. However, this isn't a surefire way to keep you from texting embarrassing photos and messages to your friends and family.
People should also need to know that you are responsible for every message you send, so abusing the feature doesn't mean that you are completely free of any responsibility for what you say. For your own good, be a responsible social media user, and rude, libelous, or defamatory messages should be unsent.