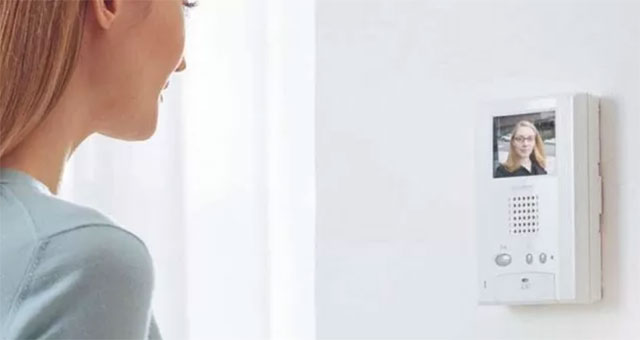 Everyone aspires to mental tranquility. Nowadays, it's crucial to live safely inside your own home while guarding your valuable possessions. Can we still claim that nobody is in danger? Is it simple to say that I won't have any worries and will be able to sleep well tonight? Due to unemployment, sickness, and poverty, a great number of individuals are struggling in this pandemic era. Because the family head is no longer able to provide for the fundamental requirements of their loved ones, such as wholesome food, shelter, medicine, and their children's education, crime is also on the rise. We must put our family's safety before the safety of our possessions in these extremely dangerous times. It is our responsibility to exercise caution and deny these thieves access to your person, your residence, and your place of business. Through video intercoms, technology has contributed to our protection.
For some time now, video intercom has been used to help preserve the security and safety of its clientele. It's comforting to know that recent video intercoms have improved their services and security measures. This device is commonly used in condominiums, buildings, and many other places. This device is a replacement for common doorbells since this technological type of doorbell helps you increase security in your home. With the help of this gadget, we can always ensure that we and our family are safe and protected from crooks. This device also allows us to see who the uninvited people are who want to come into our home or some visitors by using our cell phones while we are away from home. This is possible since our technology nowadays is advancing, which helps us make our lives better, more secure, safe, easy, and happy. Specifically, Video intercoms increase security, which can make our lives safer.
If you want to understand more about the functions and features of Swiftlane video intercoms, here are three advantages of using video intercoms.
1. Two-way video and audio intercom calling
Swiftlane intercom has plenty to offer if you need to upgrade to a top-of-the-line two-way communication system. You may effortlessly screen your visitors using video and audio intercom calling. In addition to being relatively simple, you may access your security system from your cell phone. This device can record video of people outside your home, and the system will deliver the message to you immediately. What a convenience it is for a busy customer to have access to your home, particularly if you are out of town.
2. Cost
Nowadays, modern technology is prohibitively pricey. In order to improve and upgrade technology, major investment is required. Fortunately, Swiftlane video intercom is less expensive than other providers. Although it is less expensive than other brands, the cost has not affected the quality of its services, and it is quite competitive.
3. Resident Experience
Everyone is looking for a place to reside. A secure and tranquil environment in which to raise a family and live in harmony with your neighbors. The video intercom now provides the added protection that every tenant seeks. This is one of the reasons clients decided to stay in a highly safe region. The community will be recognized and presented to other possible buyers in the future as a result of the very positive opinions and experiences of the residents.The neighborhood will be known and offered to additional prospective buyers in the future thanks to the positive opinions and experiences of the current residents.
Conclusion:
You can always ensure that your home and family are safe and protected by using video intercoms in your prospective homes, as this device allows you to see visitors or unexpected visitors who want to get inside your home, and if this visitor is a criminal, you will have the time to call for security. Furthermore, this device is excellent in terms of keeping your property extremely safe with its two-way video and audio intercom calling that is also budget-friendly and will help you have a better resident experience.