Textverified is a website that functions as a phone verification service, allowing users to avoid phone verifications and receive codes via social media websites and applications. Text Verified provides high-quality non-VOIP numbers that give you peace of mind when ordering food and rideshares by not giving strangers your real phone number. Textverified app main feature is that it allows you to create a new social media account on popular platforms, including Facebook, Twitter, Instagram, TikTok, Telegram, YouTube, Gmail, Yahoo, Microsoft, and many others, in just two minutes, without having to worry about verification because it bypasses voice, SMS, and text verification.
Textverified makes automation simple with API access, and their services can integrate into your application quickly and reliably, making scaling to your needs easier. Acceptance of cryptocurrencies, strong encryption for all online sessions, and not disclosing personal information to different companies are all security features.
What are our thoughts on Textverified?
Textverified: Use disposable mobile numbers to avoid phone verifications for your favorite websites. Textverified can assist with voice, SMS, and text verification. Long-term rentals are also available. Their phone numbers are non-VoIP and are obtained directly from major US mobile phone carriers.
How to use Textverified App?
You can use credits after signing up for Textverified to use services without disclosing your phone number. Also, you can register quickly and easily with Textverified app because they have the real phone numbers of several well-known US businesses. You will have five minutes to verify your account after choosing a service. Your balance won't be impacted if you fail to verify in due time. Simple, right?
Textverified constantly acquires new, trustworthy numbers to give you the most flexible options. Use their tooltips to see when new numbers are available for a specific service or when all currently available numbers have been used.
You can access your verification history report to keep up with everything else. To prevent duplicate numbers for any given service request, Textverified cycle out each number once it has been selected.
Finally, Textverified also provides several rentals you can use more than once per service if you're looking for a longer-term solution. A long-term number rental is a great option if you intend to reuse a number for multiple verification steps.
Don't let the worry that your privacy will be compromised prevent you from using services that call for a phone number. Text and SMS verification don't have to mean sacrificing your security, thanks to Textverified's user-friendly verification services.
7 Best Textverified Alternatives
1. Pvadeals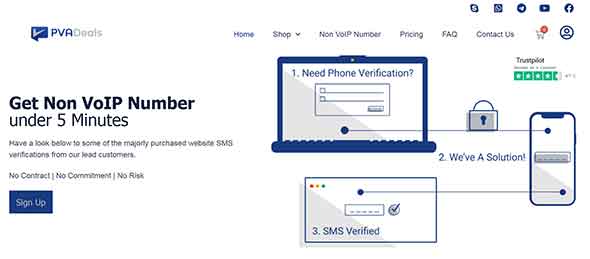 Pvadeals is a Textverified alternative website that accepts non-VoIP phone numbers for online verification and provides services such as Craigslist PVA, Gmail accounts, Google voice, VPN Verizon SMS PVA, and others. The Pvadeals generates a non-VoIP number inverse of your US number, allowing you to verify any website anonymously without providing your actual phone number. You can create a new account on various social media platforms such as Facebook, Twitter, Tinder, Paypal, YouTube, Instagram, and many others in seconds without having to worry about verification.
Pvadeals also offers a professional reverse phone lookup system that offers scalable online SMS verification solutions to individuals and businesses of all sizes. Thanks to its high-quality IP feature and SMS number, it saves you time and provides a smooth path to verify or register your business account on multiple forums. Another appealing feature of Pvadeals is that it supports short- and long-term verifications and a bulk mobile number for secure online SMS service.
website: https://pvadeals.com/
2. Textita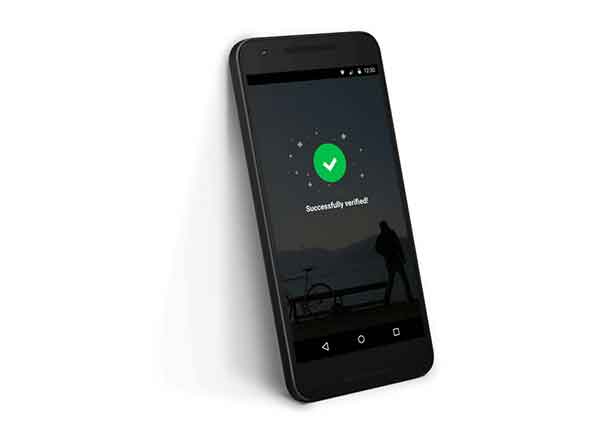 Textita is a feature-rich digital platform like Textverified that enables businesses to send and receive SMS messages in bulk from targeted recipients. It is primarily used by various organizations and business firms for monitoring, research, key messages, brand marketing campaigns, and improving data collection and communication efficiency. Textita employs non-VoIP numbers that are unrelated to your disposable phone number.
Textita has a notable feature in that you can use it to verify your social media accounts because it is supported by Facebook, Tinder, Telegram, Venmo, Paypal, Uber, Microsoft, Dent, Paxful, Yahoo, and many others. Another cool feature of Textita is that you can make a prank call to your friends and family by dialing a Toll-Free number.
website: https://textita.com/
3. Quackr.io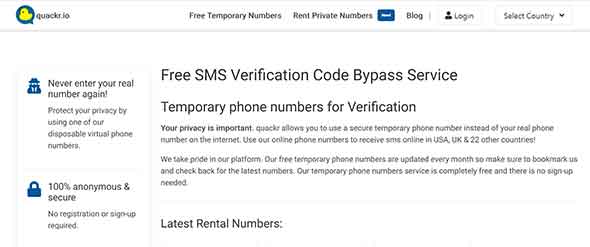 Quackr.io is another alternative to Textverified that allows you to secure your personal information using temporary phone numbers instead of your real US number for verification. The Quackr.io website's main page contains a long list of numbers from each country, allowing you to use these numbers for various tasks such as food delivery, rideshare, house rental, etc. The key feature of this platform is that it protects your privacy by allowing you to use one of their disposable virtual phone numbers to bypass online text, SMS, and call verification for different social media platforms such as Twitter, Tinder, Google, Facebook, Microsoft, Instagram, and others.
Quackr.io's premium service allows you to use only a dedicated anonymous phone number you can access. You can test different disposable phone numbers in different locations without using a VPN. You can also use it to send messages to local numbers for brand marketing without performing transactions.
website: https://quackr.io/
4. Receivesms.co

Receivesms.co is a website like Textverified that provides virtual and real phone numbers, allowing you to avoid SMS, Text and Call verifications on social media platforms such as Twitter, Facebook, Instagram, Telegram, WhatsApp, eBay, and others. The website's main page contains a list of cities with corresponding available numbers, allowing you to choose your favorite. You can receive online SMS or voice notes by dialing virtual numbers from the United States, Germany, the United Kingdom, Europe, and other countries. Receivesms.co safeguards your personal information by not providing your actual phone number during courier service, ERC, house rental, food delivery, and marketing campaigns.
Receivesms.co allows you to use multiple virtual numbers in different locations to make a prank call to your family and friends. Most of the time, the generated virtual numbers are replicas of real sim cards, ensuring the receipt of SMS or calls from any sender. As a result, you can conduct marketing campaigns for your brand at no cost by sending customized SMS to local numbers.
website: https://www.receivesms.co/
5. Freephonenum

Freephonenum is a platform that receives online SMS messages and uses temporary and disposable numbers from the United States and Canada to obtain verification codes from all over the world for development purposes. The Freephonenum platform contains:
Various VoIP phone numbers.

Protect your privacy by concealing your real phone number while performing various tasks such as house rental.

Food delivery.

Ridesharing.
Developers can use these numbers to access SMS for testing easily and develop SMS-related products such as VoIP applications, OTP variation, SMS processing, IVR setup, and others. You can receive voice notes and SMS messages online by selecting a phone number from the list and receiving an instant verification code (OTP).
Freephonenum has no language barriers as it provides lists of the world's most popular languages, allowing you to operate this platform productively if compared to Textverified. It also lets you report or block spam callers by providing the caller ID and phone number, which are unavailable on other platforms.
website: https://freephonenum.com/
6. Telnum

Telnum is a one-stop cloud-based business phone system that offers software-based PBX and virtual numbers services to help you grow your business productively. It deals with many SMS or calling services to make international and domestic communication with clients easier. Engaging with your valuable customers using Telnum provides a virtual number that your clients can call from anywhere in the world.
Its Phone Call Forwarding feature, more advanced than Textverified, lets you stay in touch with your customers or partners even if the line is busy or your official number has changed. Telnum provides virtual SMS numbers in the United States, the United Kingdom, Canada, and Ukraine. It allows you to get your virtual number in five minutes and manage call forwarding to a landline, mobile, Skype/SIP, or voice mail via a website without hassle.
website: https://telnum.net/
7. Mobilesms.io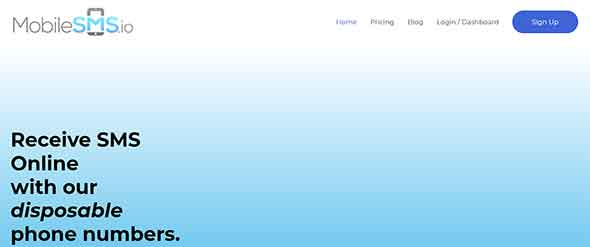 Mobilesms.io is a platform that allows you to sign up for any app or website using a temporary mobile phone number rather than your number. It uses its VoIP numbers to avoid SMS, call, and text verification when creating another account on social media, dating sites, and other websites. Mobilesms.io offers disposable phone numbers from all over the world, including the United States, United Kingdom, China, Australia, India, Germany, the Netherlands, and Spain. Other notable features of this platform include the ability to use TikTok anonymously, Hinge without a Facebook account, create a private Telegram account, and verify multiple Discord accounts.
Mobilesms.io also provides a real Sim card number from your preferred country by providing a list of supported countries and their respective phone numbers. The excellent feature that differentiates it from other online SMS platforms like Textverified is that it is also supported by cryptocurrency sites such as FX Trading, META FX, and many others. Also check out cell phone tracker apps.

website: https://mobilesms.io/
FAQ
How quickly is Textverified expanding?
According to SimilarWeb, Textverified has grown by 57.6 percent in the last six months.
What are people's reactions to Textverified?
Textverified had 572k visitors last month who spent an average of 7.7 minutes on the website and visited 6.0 different pages per session. On average, 26% of visitors leave after their first visit.
How do people learn about Textverified?
Textverified is visited directly by 350.5k people (61 percent). 161.8k (28%) people look for them on Google. 27.1k (5%) people discover Textverified through Facebook, Reddit, and YouTube. Textverified's email newsletters bring in 22.8k (4 percent) of visitors. Finally, 616.7 (0.1%) people are referred by affiliates or paid referrals.
Who makes use of Textverified?
Textverified's largest market in the United States, where they receive 240.2k (42.0 percent) of their traffic.

Pakistan comes in second with 40.2k (7.0 percent ).

Bangladesh comes in third with 37.5k (6.6 percent ).
Who are textverified.com's competitors?
freephonenum.com

pingme.tel

quackr.io

verifywithsms.com
How do people learn about textverified.com?
29.9 percent for google.com

8.41% for facebook.com

5.32 percent – youtube.com
Textverified.com is used in which countries?
US – 38.2

PK – 18.8

VN – 9.1
Popular texverified links
Real US Numbers

–

Bypass SMS,

Voice,

and Text Verified
Bypass SMS,
Voice,
and TextVerified – US
Real
Numbers
https://www.textverified.com/Buy
Please login at Textverified to continue
https://www.textverified.com/Account/Login
Register or Create a new account with Textverified
https://www.textverified.com/Account/Register
Text Verified Terms and Conditions
https://www.textverified.com/Terms