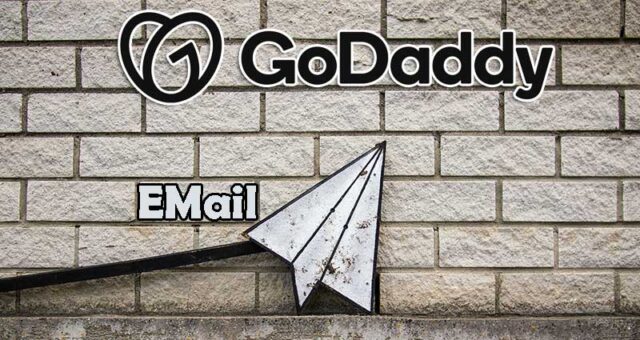 Learn how to set up an email account on your GoDaddy domain. The appropriate Godaddy email address may help you appear more professional and boost the legitimacy of your firm. It is critical to have an email address that accurately portrays your company's brand and identity. With this easy tutorial, you'll learn how to set up a GoDaddy email that will make you appear terrific.
Prerequisites for creating a GoDaddy email account
The GoDaddy email must have two conditions before it can be created:
You must have an active account with GoDaddy. If you do not already have account with GoDaddy, you may sign up for one here.

Before you can set up your new GoDaddy email account, you must first purchase or transfer your domain name to GoDaddy.
Once you've completed these two steps, you're ready to establish your GoDaddy email.
How do you set up your GoDaddy email?
To set up your email with GoDaddy, follow these steps:
Sign in to your GoDaddy account first.
Sign in to your GoDaddy account and select "My products" from the dropdown menu next to your account name.

Scroll down to your GoDaddy domain name and click the "Set up an email account" link.
Make a choice and complete your transaction.
GoDaddy offers two types of plans: individual and team. Choose the plan that best meets your needs, and then pay the fee.
Choose between the Individual and Team plans.

Determine your strategy's length.

Review all of the information and then select "I am Ready to Pay."

Select a payment method and complete your GoDaddy purchase.
Open a new email account with GoDaddy.
Following the completion of the order, you must complete the following steps:
1. Choose your preferred domain and click "Continue."
2. Fill in the required information
First and last name: You can put your own name or your company's name.

Select your GoDaddy domain from the menu if you wish to link your email to it.

Choose Do not share it if you do not wish to link it.
3. To acquire your account details, use a secure password and an email address. Then click the Create button.
4. After a few minutes, you'll get a popup indicating that your professional email is now operational. Click the "Sign in" button at the bottom.

5. Enter a recovery email address that you want to use if you forget your GoDaddy password or have other problems. Then click Save and proceed.
6. You will now be taken to the email client.
Google for Work vs. GoDaddy email
It is vital to communicate with your customers via a dynamic email solution. There are several solutions available online. GoDaddy Mail and Gmail are two of the most popular. Because your business cannot run online without email, you must choose the best one for your purposes.
GoDaddy email and Gmail both allow you to communicate with your customers from any computer or mobile device. However, with Google applications, you may reply to client concerns and complaints as well as ensure that you can contact customers even after you leave the workplace for the day. Because all of your devices can be synced with Google, you'll never have to worry about storing a message that you won't be able to get until later.
Another feature shared by GoDaddy email and Gmail is the ability to use the professional URL of your website for your email account. This is a better approach to creating email addresses such as [email protected]
Is email availability a concern?
The most significant benefit of utilizing Gmail for business is that Gmail has a 99.9% uptime guarantee built into its service contract. There's no need to be concerned about messages being stranded in your outbox. Gmail honors its uptime guarantee by adding days to your service contract if you encounter downtime. You may also like to know what is the Advantage and Disadvantage of having an email

Do you require company productivity software?
Other benefits of utilizing Gmail versus GoDaddy email include the ability to access the applications associated with your account, allowing you to make better use of your Gmail account. This includes doing more advanced searches, matching content to calendars, using filters and labels, and delegating email more efficiently.
In fact, Google claims that its applications are meant to help you take your productivity to the next level. You will be able to stay organized if you use a strong, simplified strategy.
Do you want to customize your inbox?
Another critical aspect to consider is customization. Gmail's advantages include priority inbox, archiving, and even the ability to unsend an email. With extra laboratory options, things like document widgets and rapidly putting stuff into your calendar are possible. GoDaddy's email approach is on the poor side and not as configurable.
What are your cloud storage requirements?
You also have 30 GB of powerful storage with Gmail to match your demands. This is a large enough size to upload files and retain additional emails until the talks are no longer relevant to your organization. On the other hand, the GoDaddy email gives you storage options that can go up to 50GB, depending on what you need.
When you are online and logged into your Gmail account, you will notice that you can conduct video conversations in addition to voice and text chats. This means you can connect with individuals in a matter of seconds and be certain that you are on the same page. You can also use this feature to share documents with coworkers or clients and make sure you have a copy that you can use if you need to.
How will you access your email?
Both Gmail and GoDaddy Mail connect through HTTPS by default, have 128-bit encryption, and can be used to send and receive email via a POP3 server. To log in to your account, you must additionally provide two-factor authentication. Gmail also supports IMAP and numerous accounts via their applications.
Finally, the choice between GoDaddy email and Gmail with its sophisticated apps may come down to personal preference. While Gmail is built on Google technology, GoDaddy's system is built on Outlook and is part of the Office 365 setup.
Finishing
You've just set up your professional email account with GoDaddy. You may now use this email to connect with your clients and business partners while making a good impression on them.