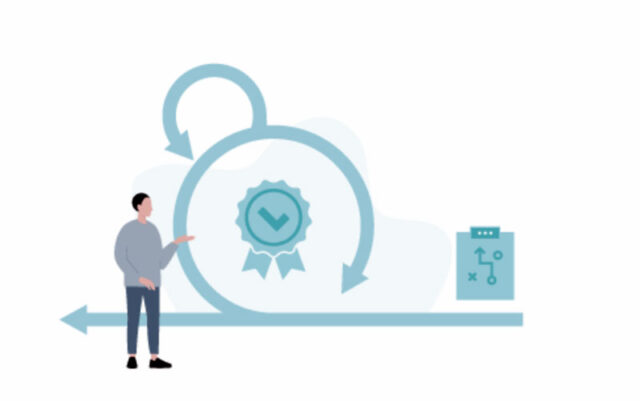 Scrum is one of the Agile frameworks that assists organisations in generating effective products through rapid succession. A vast number of small, medium-sized, and large businesses have adopted these methods and are in need of people who can manage the scrum.
PSM stands for Professional Scrum Master, and it is a qualification for professionals who want to operate in an Agile Scrum setting. It is also useful for employees who are already working in an Agile setting and trying to solve current process difficulties. Obtaining such certification certifies your knowledge of Scrum and provides you with an authenticated entrance. Exam preparation advice and a guide to taking the exam should be followed.
A Professional Scrum Master is a member of the team who is in charge of providing a streamlined and enjoyable environment for the development team. This encourages creativity and enhances the product. Scrum masters are in high demand due to the scarcity of professionals working in this industry. With a psm certification online, you will be able to demonstrate that you are more informed in the field than your non-certified peers.
The PSM certification will assist you in developing a basic framework that increases teamwork, communication, and speed across complicated projects. Using the concepts of the Agile environment, the team can self-organize to make the necessary adjustments in the project.
Know How To Pass Professional Scrum Master Exam- Tips and More
Here are some pointers to help you better grasp Scrum and pass the PSM exam.
Prepare to study and take numerous attempts at the online preparatory tests. The exam is difficult until you practise a lot.
Read the Scrum Guide available online and refer to it whenever a hard question shakes your confidence in your knowledge of Scrum.
It is simply 16 pages long and will help you clarify your Scrum principles.
Take the Open Assessments until you obtain perfect scores on all of them.
Taking the assessment also enable you to answer complicated questions that may arise during the exam.
Join and/or look for professional Scrum community forums to find good explanations to any issues you may have. Scrum.org has a lot of good Agile/Scrum conversations.
Search the internet for any other free PSM assessment examinations that are available.
Each practice exam will teach you a little bit more.
Take a paid Scrum Master training online. It addresses tricky and difficult issues thoroughly and provides excellent explanations for why answers are valid.
Exam Preparation Strategies
The PSM1 test is taken online. You will have to answer 80 questions in 60 minutes. To pass the exam, you must get at least 68 right answers. Because of limited time, many candidates leave some questions unanswered, it is critical to be as familiar with these ideas as feasible.
Solid internet connection: Because the exam is taken online, you must have a stable internet connection. Take the exam during the steadiest internet connection time of the day.
Choose a tranquil time slot: The less distracted you are, the better your exam marks will be. Find the finest moment for yourself.
Read the following questions carefully: When you read multiple-choice questions too rapidly, they all start to seem the same.
Be wary of word games: Some fairly prevalent exam techniques are:should vs could attend vs participate.
Set a timer: When taking practise examinations, use a timer. This will ensure that you can answer all of the questions in the allotted time.
Mark the perplexing question: If you are stuck answering a question, skip it for the time being. Mark problematic questions and try them later to save time and energy.
Select one dependable source of assistance: Plan ahead of time which guidelines you will use as areference and limit yourself to one or two resources.
Benefits PSM Certifications
Solid scrum knowledge foundations
If your firm uses the scrum framework, getting a Professional Scrum Master certification will aid in strengthening the foundation of your expertise. Furthermore, if you already have scrum experience, the certification will allow you to fill knowledge gaps.
Attitude Shift
To work with scrum, one is requiredan agile mindset. This is because scrum adheres to the agile technique. If you want to implement a self-sustaining and successful agile methodology, the team must have an agile mindset. You will be able to instil this mindset in yourself and your co-workersas a result of the PSM certification. Once you have mastered the scrum, you will be able to provide successful results in your projects.
Maintain your relevance and marketability
PSM certification not only demonstrates your expertise in the area, but it also aids in promoting yourself to colleagues and upper management. It demonstrates that you have a depth of agile knowledge that is applicable to any agile-following firm. With this certification, you will be able to broaden your career options in any firm that uses agile practices.
Benefits your company
When a business accepts new challenges and changes, it influences its employees, clients, and process. However, with the PSM certification, you will be able to obtain real and practical benefits rapidly. You will have self-managing teams that will work efficiently to achieve the greatest results. On the other side, if you don't have the necessary scrum knowledge, you won't be able to adapt to the changes and processes that your firm has implemented.
Work effectively with your peers
It is easier to fulfil your obligations when you are working with colleagues who comprehend the scrum. You will be able to make the most of your scrum skills and understanding in order to manage the agile project. As a certified PSM, you will increase your colleagues' awareness of the scrum, which will aid in the successful implementation of agile approaches throughout the organisation.
To Sum Up
PSM certification has a lot of benefits. It can be an addition to your professional profile. PSM can be quite advantageous to you in the long run, and it has the potential to propel your career to new heights.