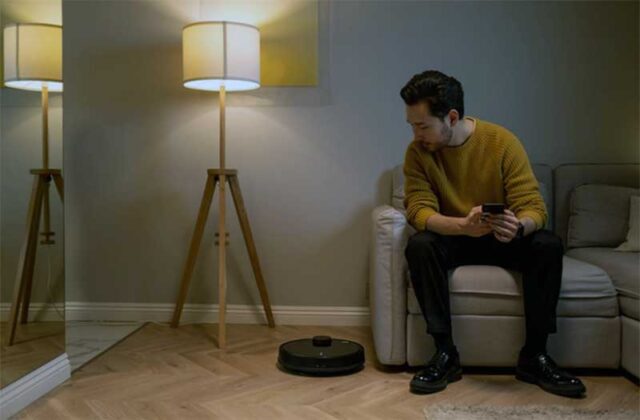 A smart home is an efficient home setup that lets you control your appliances from anywhere in the world. Despite being present for more than a decade, the "smart" features of the "smart" appliances weren't that smart. But, in 2022, you can do a lot more with smart cameras, thermostats, security systems, and bathrooms through your mobile device.
Let's look at the top 10 ways to control your smart home using mobile.
Smart Security Cameras
An always active security camera system for your home isn't the most viable option today. The latest HD cameras eat up storage space like crazy. It's even more impractical if you have multiple cameras set around the house.
But a smart camera system with motion detection can save your physical and storage space without jeopardizing security. These cameras don't record everything, they are only activated when some activity around the field of the camera is detected.
A smart camera system can also be monitored through your mobile devices. While being out, you can set them up to send a notification whenever any activities are detected. Some cameras also feature app control that lets you change their field of vision.
Smart Thermostat
There's nothing more pleasant than returning to the comfort of your warm home. If you are planning to leave the thermostat on for weeks without anyone staying behind to relish it, it's just a waste of money and energy. But, imagine if you could turn off the thermostat when leaving home and turn it back on just an hour before returning. That would certainly solve the problem without you sacrificing comfort.
And if the thermostat could learn from your daily pattern of usage and automatically switch itself on, even better.
Smart thermostats are already around the corner and some companies are even taking it further by implementing app support.
Smart Bathroom
We don't really think about smart systems when talking about bathrooms. But, there are certain already existent smart features that you might already have in your bathroom, or you should consider opting for today.
Sensor taps are one such technology that's already been making an impact on the environment and your bills. As we often keep your water taps open even when you don't need them, smart taps use infrared sensors to detect if someone is close to the taps and analyze if the taps should be kept open.
Imagine your freestanding tub giving you a foot massage, controlling jet pressure, and playing music while adjusting the temperature of the water on the go. New smart features that thoroughly blend with the bath bombs and bubbles are already being introduced to design smart bathrooms.
Smart Security System
Traditional security systems that used to notify you about someone knocking on your door and sending you video through the control panel set up in your bedroom, don't work anymore. As our lifestyle progressed, so did the requirement of having the best smart home apps for security that can be controlled from outside the home– on the go.
It's not always practical to prevent everyone from going in when you aren't home. You might've asked for a maid, a plumber, an electrician, but couldn't stay behind to buzz them in. A smart security system lets you decide whom to permit, and whom to not. You also can set up fingerprint and retinal scanners for you and your family members to automatically get in.
Smart Pet Feeder
As charming as it is to have a pet around, it's also a huge responsibility. When you are leaving your home for a day or two or commuting daily to your workplace, feeding them timely seems like an impossible thing. You can't also leave their pet food in a bowl and expect them to have their meals in a well-timed manner.
Smart pet feeders pour their food and alarm your pets that the food is ready for devouring. You might need to train them for a few days before they can understand the system, but after that, you just need to fill the feeder up and see your pet waiting patiently for it to dispense their food.
Smart Lighting
New smart light bulbs let you change the colors, dim them, and turn them off automatically by the app that comes bundled with them. We often discover after installation that the lightning theme that we chose for the bedroom isn't going well with the interiors. With the new smart lighting, the issue becomes less prominent.
Smart Coffeemaker
This is not something new. We've all been using coffeemakers for a long time. But, not many of them support app integration. After waking up, if you aren't feeling like having the regular Latte and are craving something fancy with lots of cream and milk, like Cappuccino, the older models can't do that without your help.
But, the smart coffeemakers with the latest technologies can be operated from your phone. So, whatever you are looking forward to getting started with, it can be done with your fingertips.
Smart Keys
Smart keys work the best when bundled with smart security systems. As the doors can be opened and closed from your phone, there's no need to use the old deadbolts for your front door and keep running down the stairs whenever someone knocks.
You can also set up a visitor key to temporarily grant access to someone who needs to go inside when you aren't home.
Smart Sockets
If you aren't in the mood to change all your appliances for the sake of a smart home, you can change your electrical sockets with smart sockets to extract some extent of the features that smart systems offer. The sockets with Wi-Fi and app support let you turn on or off the appliances, control the lights, and set a schedule from the comfort of your phone.
Smart Solar Panels
Solar panels understandably have become quite popular in recent times. But, to maximize their output, the panels need to be in parallel with the sunlight. But, it's impractical and inefficient to adjust the panels to face the sun thrice a day. Smart solar panels fixtures, that sense the angle of the sunlight, and change the direction of the panels accordingly, have become quite popular with environmentally conscious households.
The Bottom Line
Controlling your smart home using mobile has always been a requirement for customers. While some of the systems used to offer some control through mobile devices, most of them took it for granted and stuck to only scheduling their appliances.
But, nowadays, as the smart features have improved beyond scheduling and supervising, the appliance manufacturers are being forced to integrate apps with their appliances.