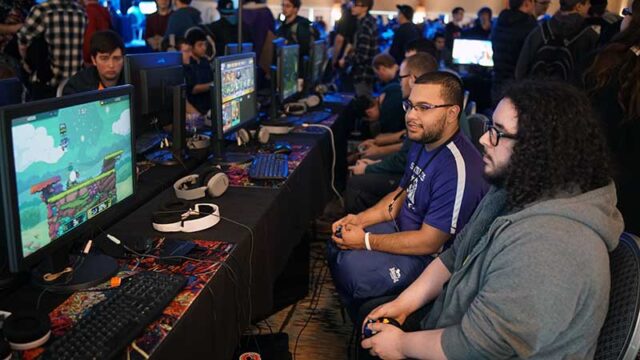 Nowadays, no one is surprised by huge venues to hold online tournaments on computer games. Many gamers can hone their skills in a comfortable environment with their favorite keyboard and gaming mouse under 50. However, it was not always like this.
Many people remember how it all started and how it became a trend. Read on to learn about the history of computer clubs and the notable representatives in this sphere.
The History of Computer Clubs
So, how did the idea of a computer club creation arise? At the end of the nineties and the beginning of the noughties, computers were no longer considered devices for the privileged. Meanwhile, the most popular computer games appeared: Quake, NFS, CS:GO, and many others that have now become almost legends. Everyone wanted to play, but how do you do it if you have no computer or Internet at home?
The problem served as the basis for the idea of a place where one could play games for a small (usually hourly) payment. The individuals who understood the prospects of such an endeavor decided to open their own computer clubs.
Many people spent the whole night in such clubs – it was cheaper that way. They took the process seriously and prepared beforehand, buying drinks and something to snack on. Often, the club simply closed for the night, and it was possible to leave only in the morning. The 24-hour computer game club was a very popular facility with a special atmosphere.
What About the Present?
Nowadays, almost everyone can afford to buy a computer and connect to the Internet. Thus, a business based primarily on attendance is in decline in many countries. However, computer clubs do not disappear completely and even experience another meteoric rise in a completely different format.
Despite the fact that computers are now a common thing, gaming venues are being opened all over the world. Today's games are pretty demanding when it comes to hardware. Achieving good results in the game is much easier if you play on maximum settings and with high-quality graphics. Considering that cybersport is a relatively new phenomenon, many teenagers see themselves as cyberathletes.
That is why it is important for them to train as a team, and it is possible to do so in a computer club. Modern computer gaming sites are meant specifically for those who want to play their favorite games as comfortably as possible and develop their skills.
Let's look at the most famous and largest clubs and find out what they offer.
The World's Largest Computer Clubs – Success Stories
ChamsCity Digital Mall
This is a success story that inexplicably led to failure. It all started in 2009 when Nigeria decided to introduce the world's computer progress to the population. Together with the government, they decided to build a state-of-the-art computer site.
The area of this Internet cafe was enough to put as many as 1,027 computers. Representatives of the Guinness Book of World Records were interested in the venue because it could claim the title of the largest computer club in the world!
However, in 2016, the club was closed. As stated by its founders, the reason was its low attendance.
Nevertheless, the club fulfilled its task by introducing the population to the possibilities of the Internet. Now, you will not find even a mention of the club on the pages of the Guinness Book of World Records. But it will stay forever in the history of computer clubs.
Helix eSports
This big computer games club was founded in the USA. At the moment, one of the most famous companies specializing in computer games and betting, Esports Entertainment Group, owns this club. We can say that now the club will get even more opportunities for development because the company's goal is to promote eSports and everything associated with it.
Helix eSports includes five clubs, and two of them are the largest in America. These are the most modern facilities equipped with everything necessary for comfortable playing and holding online tournaments.
In addition to powerful computers, players can also try their luck on slot machines, play on consoles, or use special mats with game sensors. The club is designed for both amateur and professional cybersports teams.
COLIZEUM
Colizeum is known among all gamers in Russia. The largest gaming area within the network is located in the city of Oryol. It is equipped with 106 computers, has a stage for tournament battles, and is created with maximum comfort for those who come to play.
This is the best and most well-equipped computer club in Russia. Gamers have the opportunity to play on consoles and visit the virtual reality zone. Many eSports tournaments and events are held and eSports teams train here. But the club is also intended for those who like to spend time playing their favorite game.
Inferno Online
This place is located in Sweden. Its highlight is the daily tournaments on famous games: Inferno Online offers every gamer to try their hand at it.
You can take part by simply undergoing a quick registration. There is a pretty good prize fund, and each individual has a chance to win. The club is equipped with five hundred computers, so there is enough space for everyone.
The equipment allows you to play your favorite games at high settings and try your hand not only on the PC but also on the console. The club is visited by professional eSports teams and individual players.
TNC Cebu
A new computer club built in the Philippines is equipped with 600 computers and looks very stylish. Such institutions are very popular in Asian countries and enjoy a large number of visitors. Not everyone has the opportunity to play on a powerful computer in a comfortable environment, and the site allows you to do so.
In addition, you can stream or watch online broadcasts of eSports tournaments. The club also offers consoles, comfortable seating areas, and VIP rooms. It is designed for those who are willing to pay money to enjoy their favorite games.
Wrapping Up
Cybersport creates a new reality for hundreds of thousands of people. And clubs all over the world help make this reality accessible to everyone. Thus, computer clubs will remain popular in the near future.