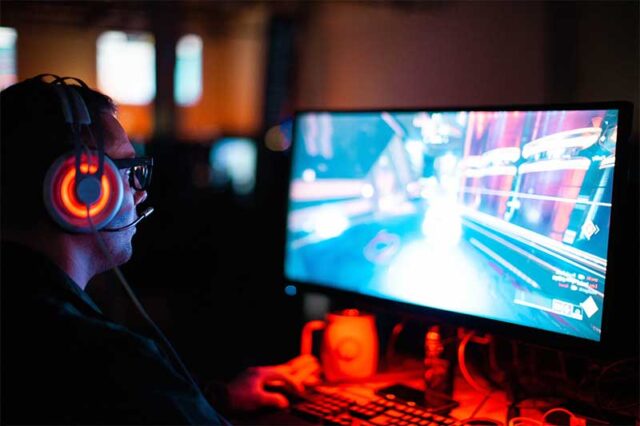 The iGaming industry is extremely competitive. It always has to follow the latest trends and update its technology to offer players a truly immersive experience. In recent years, tech innovations have improved the overall online gaming experience on multiple fronts; from safety and fairness to game variety and payments. Read on to discover just how the rise of technology contributed to the rise of iGaming and does so to date.
The Internet
The Internet was the first and the biggest step forward for the iGaming industry. It allowed developers to build gaming consoles that enable players from around the world to connect and play together. Thanks to the Internet, the first online gaming platform developed by Microgaming emerged in the mid-1990s.
While it was far from the online casinos we know today, it was the foundation upon which new games and features were added. Less than two decades later, we're spoiled for choice with the number of platforms where we can enjoy an exceptionally smooth gaming experience.
Another massive advancement that the Internet brought about is multiplayer gaming. The opportunity for two or more players to play the same game together no matter the distance has introduced a vast variety of gaming opportunities.
In the world of iGaming, these social experiences proved incredibly important for the online bingo sector. It seems all the chatting, socializing, and sharing the fun with other people was just what bingo fans have been dreaming. That's exactly what they got and they have the Internet to say thank you to.
Immersive Visual Experiences
Back in the day, online games featured 2D graphics and text-based technology. Put differently, they weren't even close to looking or feeling real. However, with incredible technological advancements like 3D graphics, special effects, and the introduction of RPG in iGaming, today's games look as realistic as possible.
The 3-dimensional graphics enable in-game interactions, determine physical characteristics, and build lifelike textures. Thanks to the nicely-designed details and special effects, players now can enjoy online gaming wherever they are and whenever they want.
Virtual Reality
The gaming industry is always busy trying to find new solutions that will offer brand new experiences to players. VR or virtual reality is one of the latest breakthroughs that found a great companion in interactive gaming. Thanks to VR, the shiny Las Vegas lights are closer than ever, and you can have a truly original casino experience. No need to jump on a plane and travel to Sin City to get the real feel anymore. Now, you can slip on your VR set, and it will transport you far away from everyday life.
RPG Gaming
RPGs or role-playing games enable players to create and customize characters and control their actions in a fictional environment. The first time that players came across a modern RPG game was in 1974. It was with the development of the Dungeons and Dragons tabletop game. Over the years, due to many technological advancements, developers started adding more elements to RPGs improving their quality and making them more enjoyable.
Thanks to the changes that took place over the past few decades, role-playing games continue to find an audience globally and have no intention to stop. There are already RPG slots where the action is much more than spinning reels. Instead, there's manual mode, first-person shooter, and actual happenings on the playing screen. It's expected that this type of online slots will just improve over time and include even more engaging mechanics.
Player-Generated Games
Player-generated games are about to make a huge entrance in the iGaming sector, which leads to a completely new era. Software developers outsource content to gaming fans, allowing them to create their own levels and share them on the Internet. Music composers, voice actors, and user-friendly map editors are coming back, offering new powerful tools and allowing players to contribute to games' advancements. Players won't just accept the new developments, but they will also take part in their making.
Conclusion
With all the changes we've seen in the world, it's safe to say that modern technology revolutionized our lives. Paving the way for new multi-functional devices, it's made our lives faster, easier, and much better. The world has changed so much that we cannot imagine life without the Internet and high-tech gadgets.
This is surely the perfect time to be a gamer. In the next few years, we are about to witness more tech improvements in the iGaming industry. Future developments will introduce more gadgets, elevated experiences, and unique features that will make interactive gaming that much more attractive.