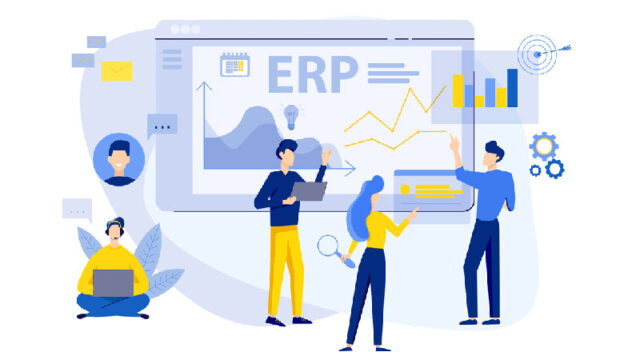 Regardless of the size or industry of your company, you should have software in place to help sort out your budgeting needs. There are many different types of ERP systems, but it's best to choose one that is right for you. Stay up-to-date with this blog article for advice on selecting ERP software for small businesses!
What is an ERP System?
An Enterprise Resource Planning System, or ERP as it is commonly known as, is a set of guidelines for managing a business' information and processes. This system manages a company's interactions with customers, suppliers, employees, and logistics to help your business run efficiently and effectively. The important point for the selection of an ERP system is figuring out how much money the implementation will save you in the future, not just right now. Several ERP systems are available from different vendors to choose from. They charge different rates depending on the complexity desired by the business owner.
Types of ERP Systems
There are many different types of ERP system options for businesses. Selecting ERP software for small businesses has specific benefits, so it's important to think carefully about which package will fit best with your company. When surveying the differences between each type of system, consider your company's current capabilities and how you'll be using the software in the future. ERP software is a computerized system in which an enterprise designs and manages the business processes and interests in order to use and control it. It achieves this by linking various separate functions into one central database.
Benefits and Disadvantages of using ERP
The decision to use an Enterprise Resource Planning system is a big one, and it should never be made on a whim. Every business culture is different, so it is important to take the time to research your options. More importantly, you need to consider if the application selected will meet your requirements while being within your budget. The benefits of ERP systems typically revolve around productivity improvements and costs savings, while the disadvantages mainly arise from issues with data accountability and changes in management practices. The advantages of using an ERP system for a business are many. The system manages the business' daily tasks, reduces time and money spent with tasks, and streamlines workflow processes. With ERP, a business has a better chance of being more successful overall. On the other hand, if a company doesn't have enough resources to maintain the software or is looking to revamp software from scratch, then this will incur costs as well as efforts that might give little return on investment.
How to choose an ERP System for your Business Size and Budget
Although an ERP system does not always have to fuse, choosing one can be difficult. The following are important factors to keep in mind when deciding on the best ERP for your business: An ERP system can help your business optimize day-to-day operations, to streamline processes, improve problem resolution, manage resources more efficiently, and develop customized reports. For small businesses with under 100 employees that are also casual or seasonal enterprises hiring multiple people for short periods of time, an open source or lower cost software is often perfect for their needs. But what about large companies with hundreds of employees?
When businesses decide to implement a new ERP system, it is important to consider the potential benefits and drawbacks. If you are considering the ERP system, then sure, there's a lot to think about. When it comes to choosing the right ERP system for your company remember that it is well worth doing your research and weighing up all options before starting out. Your choice of ERP will depend on the size of your company, its growth plans, product range, any vendor relationship or additional services you plan to offer, and your budget before taking into account the functionality of the software.