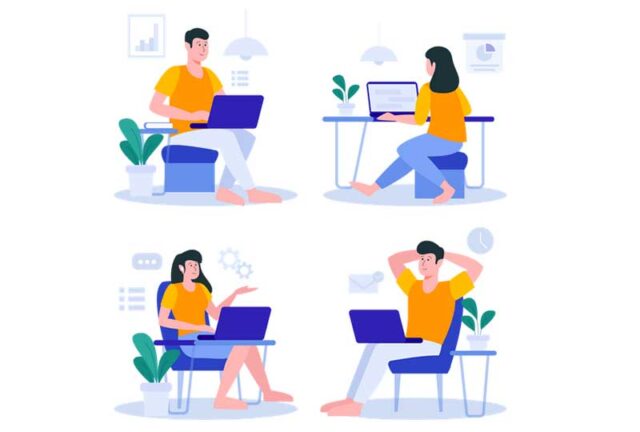 Setting up an office at home is one thing you need to consider today. Working from home is a growing trend that's taken the world by storm. One hurdle is finding the right tools and equipment to help you get the desired results.
It would be best if you had in-depth research to find the best work-from-home gadgets. Thankfully, we have done most of the work for you and compiled a list of the best devices to include in your checklist. You will also find extra accessories that will make working from home a rewarding experience.
10 Important Gadgets for your Home Office
Here are some of the equipment you need to buy.
Wireless Keyboard
Never miss one thing in your work-from-home office checklist is a wireless keyboard. Wired keyboards are slowly getting phased out as people look to keep their working environments neat. Wireless keyboards connect to CPUs via Bluetooth and reduce the number of wires on a desk.
Most wireless keyboards come with a compact design that makes them look great. Besides, they feature highly responsive keys that make it easier to type. For comfort, you need to invest in an ergonomic design keyboard. It has a wrist support feature that makes it possible to use for long without fatigue.
A Wireless Mouse
A wireless mouse can increase your productivity at home. Working with a mouse for long hours can be tiresome and can potentially strain your nerves. A mouse with an ergonomic design will be the best pick for you if you're looking to spend a lot of time working.
Also, it would be best if you were looking for a mouse with an excellent optical sensor. Most tasks, especially in the creative industry, require high precision, which may be difficult to achieve with a regular mouse. It should detect and read even the slightest movement and respond well to clicks.
An Affordable Monitor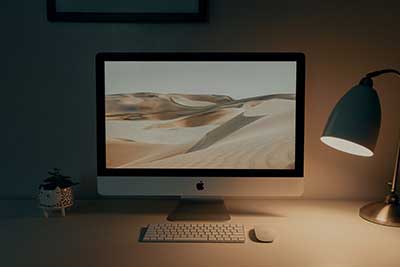 A monitor is one of the primary gadgets every home workstation should have. You need to invest in a high-resolution monitor that gives you the desired image quality. The best thing about monitors is that you're never limited. There are several choices to make, whether it is about screen size or specs.
For instance, if you're looking for the best 5k monitor, it is vital to take your time to research. A fancy curved design can be an excellent pick for better viewability. Besides, most 5k monitors also come with advanced features such as HDR and FreeSync. These two will give you the viewing experience you desire.
Wireless Charger
It would help if you also had a wireless charger for your home office. Wireless chargers make it easier to recharge phones and other devices efficiently. Your desk and entire workstation will also look great if you invest in a wireless charger. That's because there won't be many cables lying on the desk.
Increasing your productivity at home starts with making sure your devices have enough power. Arriving at your workstation to complete an urgent task only to find dead devices is a bad experience. A wireless charger will save you the headache, thanks to its top-notch features.
A Desk Lamp
Working from home has one significant benefit: you're never limited on what you can do. For instance, you can decide to burn the midnight oil and complete your assignments. You will need some light if you choose to work throughout the night and rest during the day.
A desk lamp is all you need to illuminate your desk at night. You should invest in an adjustable light that makes it easy to control the brightness that suits your needs. Other desk lamps come with charging ports that you can use to recharge your phone as you work.
Illuminated Mute Button
You do not want someone disturbing you when you're busy. Depending on the work you're doing, you may be looking to achieve the highest degree of accuracy. Achieving that can be difficult if there are frequent distractors in your working environment.
The best thing to do is invest in an illuminated mute button. This device helps you alert other people that you're busy and would prefer not to be disturbed. It is a great device to use, primarily if you often communicate virtually via video calls.
People in your household will know whether you're available. All they need to do is check the illuminated mute button light color. In short, red means busy, while green means available.
A Bluetooth Speaker
Bluetooth speakers are an essential addition to your home office. Even with a pair of headphones, you still need an external speaker. That makes it possible to listen to audio without having to put on headphones.
Speakers that use Bluetooth technology make your office neat by reducing the amount of wiring in your home. You can also choose from among different desktop speaker models to find the best. An ideal speaker should produce quality sound. It should also connect to your phone, PC, and other devices easily.
A Webcam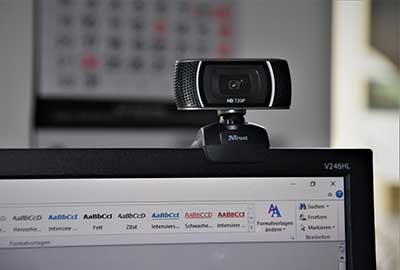 You will also need to buy equipment for your internal and outgoing meetings. With more people working from home, video conferences have replaced in-person meetings. Buying a top-quality webcam for video calls and conferences is one of the things that you must do when building a home office.
A webcam will make you more productive by making communication seamless. It should be easy to mount anywhere and adjust to your needs. A 1080p webcam will be a decent one because it gives you the desired image quality. You can also enhance your experience with different webcam controls.
A Surge Protector
A power strip and surge protector are vital gadgets in a home office. A surge protector helps you avoid the problems that come with possible voltage spikes. On the other hand, a power strip comes with an extra outlet space, perfect for an office space.
Having these two in your home office will help you safeguard your office wiring and appliances. That means you won't experience the burning of office equipment. The least that you can expect is the normal wear down of devices. Your home office equipment will last for an extended period and increase your productivity in the long run.
A USB or USB-C hub
If you recently purchased a laptop, chances are it came with several USB-C ports. Besides, more portable devices are coming with USB-C functionalities. That means having a computer that has these ports can increase its connectivity with other devices in your office.
Investing in a USB-C adapter or hub is also vital. It is an accessory that will help bridge the traditional USB port with the modern USB-C port. A suitable adapter should also support charging. Such an adapter makes it possible to charge devices with the USB-C charging port when you can't find a charger.
Conclusion
Creating perfect office space in your home nowadays is easy if you know the gadgets you should buy. The devices mentioned above will help you create a complete workstation at your home. You need to look for quality and functionality when purchasing any of these gadgets.