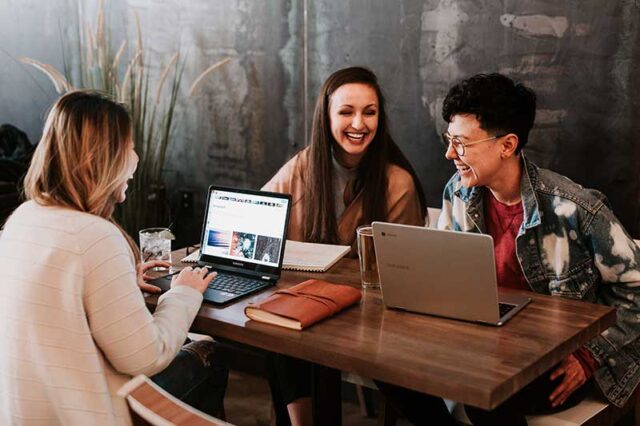 It is a widely known fact that working in an unorganized and tense work environment triggers a tremendous amount of stress for the employees. Besides this, employees exposed to such unstable working conditions tend to waste their energy on trivial things, which subsequently affects their productivity levels.
On the contrary, a harmonized workplace helps increase your employees' creativity and improve performance by ensuring effectiveness and efficiency at every level. This is because happy employees are typically more productive and motivated, thereby helping the organization achieve its overall objectives.
Still not sure why you should focus on creating a harmonized workplace? Have a look at a few numbers yourself!
A study conducted by Qualtrics revealed that happy and motivated employees are more likely to stay with the organization.

According to Gallup, employee engagement results in a 17 percent increase in productivity and a 41 decrease in the absenteeism rate.

A survey conducted by Randstad indicated that around 58 percent of employees had quit jobs due to negative office politics.
This means that it is crucial to create a comfortable and harmonized environment at work so that your employees feel motivated, committed and stay with the organization in the long run. However, with the ever-increasing employee demands and workforce diversity, ensuring a balanced and cooperative workplace environment can be a tricky feat.
But fret not. We have you covered! Below is the list of the top 6 essentials that are a must-have for ensuring a harmonized workplace.
Ensure a Safe and Secure Work Environment
We all know that creating and maintaining a safe and secure work environment is a must and should be a high priority in every organization. This is because, under the Occupational Health and Safety law, employers are obliged to create and maintain a safe workplace. Otherwise, they can get into trouble.
Wondering how to ensure a safe work environment in your company? Here are some expert tips for you:
Make sure that the office space is free from any recognized physical or chemical hazards.

Workers should be provided with safety training on a regular basis.

Employees should be provided with safe tools and equipment for work purposes.

Use labels, posters, and signs to warn employees regarding potential hazards.
Encourage Communication
Effective communication and collaboration create a sense of community, making employees feel valued at work, and connected with the company. According to the McKinsey Global Institute, employee productivity levels increase by 20 to 25 percent in companies where employees are connected with each other. Similarly, a survey conducted by the Trade Press Services indicated that 85 percent of employees pronounced themselves as most motivated when their management provides regular updates regarding company news.
As a business owner, it is your responsibility to clearly communicate the organizational goals and expectations from employees to know what is expected of them. This helps reduce the chances of mistakes and rework.
So, the real question is that how can you ensure that you are communicating with your employees effectively across the entire organization? We have listed down the five strategies to help you take your communication game to the next level:
Be transparent and real, and let employees know if you cannot share details due to confidentiality.

Communicate about matters at the right time. Don't wait, as it might give room to unnecessary rumors.

Your messages should be coherent with the organization's mission, vision, and culture.

Tailor your messages in a way that they are meant for your workforce.

Leverage multiple communication channels, and encourage feedback.
Support Effective Work-Life Balance
Work-life balance is a hot buzzword in the corporate world these days; however, putting it into practice in real is a different story. Try these simple tips for creating a healthy work-life balance in your workplace:
Set boundaries with your clients so that they don't disturb your employees during their time off.

Restrict employee hours so that none of the employees is involved in late sittings or overtime at work.

Introduce flexible working hours so that employees have some level of autonomy.

Allow employees to work remotely in case they are traveling or unwell.

Encourage hardworking employees to avail their paid leaves and go on vacation.
Empower Your Employees
Empowering employees is crucial for growing a sustainable organization. While many businesses may grow because of the hard work and dedication of one or two entrepreneurs, true growth is achieved when multiple people work together, i.e., your employees.
Apart from this, by empowering your employees, you are able to establish a relationship of trust with them. This will, in turn, helps enhance their productivity levels and commitment to the organization.
So, in case you want to ensure a harmonized work environment for your company, you should delegate decision-making and authority to your employees.
Have Proper Tools in Place
We have often heard the saying, 'You are only as good as the tools you use.' This means that you can't excel at your job until and unless you have the correct tools in place.
Therefore, it is your duty as an entrepreneur to provide efficient tools to your workforce. 
For example, you can't expect employees are working in the finance department to provide you with the accurate financial history of the organization until and unless you introduce accounting software for your small business.
Similarly, you can't expect your design team to work creatively and fulfill all the client's design requirements until you provide them with high-quality laptops or desktops. Unsure which ones to go for? Here is a complete guide for your help.
Offer Rewards, Incentives, and Benefits
One of the most significant ways of ensuring a harmonized work environment is by keeping workplace morale high. And how do you do that? By appreciating your employees when they meet or exceed your expectations in the form of rewards, incentives, and benefits.
The Bottom Line
In a nutshell, it is crucial to ensure a harmonized workplace environment. Otherwise, the productivity levels at your organization might go down. If you are looking to provide a safe and healthy work environment at work, the tips and tricks mentioned above will surely help you. So fasten your seatbelts and get set for building long-lasting harmony in your workspace.